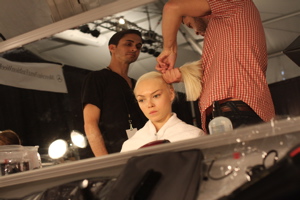 Ponytails were super tight and stiffly textured.
The 80's were back in full force backstage at Milly by Michelle Smith with Desperately Seeking Susan bows, high side ponytails and contoured cheeks.
RSession Tools lead stylist Kevin Ryan wanted to create a look that was a "nod to the 80's," so he decided to revive the high, side ponytail. He started off finger-drying hair, then saturating it with Bumble and bumble Thickening Hairspray. "Read the instructions on the side of the hairspray, then completely ignore them," he joked. "You want a stiff, crunchy texture so spray it really close to the hair and just keep spraying it on."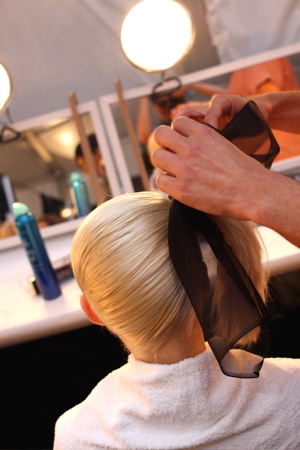 Ryan embellishes the ponytail with a big bow.
He created a deep side part and gathered all of the hair up on the right side of the head, creating a super tight, high ponytail directly above the ear that he secured using a hair bungee from the Pinup Girl Kit. "We're trying to keep the ponytail directly on the profile so it's a side ponytail in the most literal sense," he said.
He then took a large square of sheer black chiffon fabric and tied an exaggerated bow around the ponytail's base. He then sprayed hair with Bumble and bumble Does It All Styling Spray to crunch out the texture even more and create lasting hold. The effect was a totally 80's hairstyle.
MAC lead makeup artist Romy Soleimani created a makeup look that was "60's meets 80's, but done in a Milly way." Instead of hard, theatrical makeup, the look was pretty, girly and more natural and healthy than retro. She left the lids bare and then used lots of mascara on the upper and lower lashes to convey the 60's aspect of the look.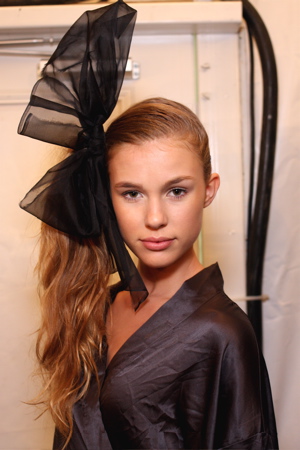 The finished look.
For the 80's component, she created a strong highlight on the cheekbones using the luminous gold-y-beige shade of Crushed Metal, a new product for spring. She applied it on the top of the cheekbones, the used a golden bronzer in a stripey, extreme contouring shape in the hollow area of the cheeks.
Clear lip balm was applied to the lips and a light bronzing mousse was added to the body to create a washed, healthy tan.
CND Nail Production Manager Roxanne Valinoti used one coat of a sheer, innocent pink called Marshmallow Rose on the nails to add a little hint of pink. "Michelle always does nude nails because the colors in the collection are usually so colorful and fun, we don't want the nails to compete with that," she said.