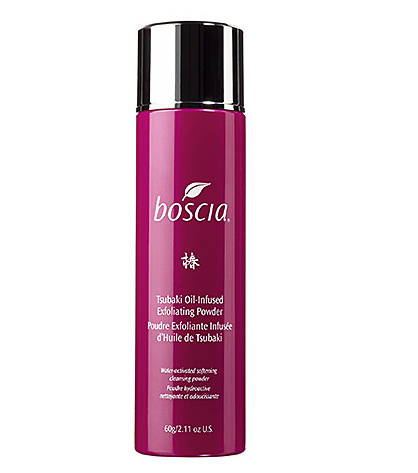 You know how you see the "bestsellers" and "most popular" products in beauty stores, so you of course scoop them up, but then you realize you have no idea how to work them? In "How It Works," we're going to explain to you exactly how to get the best use out of your products, whether they are cult classics or hot off the conveyer belt must-haves. We'll teach you the basics, as well as a few industry expert tips to make sure you're getting the most out of everything you buy. 
Being constantly surrounded by beauty products on a daily basis, we're fairly familiar with the different kinds of exfoliators out there. You have your manual wash-off scrubs, handheld oscillating brushes, and chemical liquid exfoliators. What we haven't seen much of, however, are powder exfoliators. The makers of Boscia created this Tsubaki Oil-Infused Exfoliating Powder that cleans and clears pores in working to make skin smoother and brighter. The Tsubaki Oil-coated grains in this product are a unique feature and certainly peaked our curiosity about how exactly it works and what it does.
MORE: Get Your Glow On From the Help From the Best Brightening Products
Product Perks:
It has a deeply hydrating formula that delivers anti-aging benefits.
It's made without preservatives, parabens or sulfates.
Tsubaki Oil protects against free radicals and contains Omega 6 and 9 for intense moisture and collagen production.
Since the grains are coated, they aren't as harsh and won't irritate your skin.
How It Works:
Start with damp, just-cleansed skin. Mix water with the powder to create a thick or thin paste, depending on your desired exfoliation level (less water gives deeper exfoliation, more water creates a gentler scrub). Massage the paste onto your face in circular motions for at least a minute. Rinse it off, pat your face dry and follow by applying a rich moisturizer.
Where to buy: Boscia Tsubaki Oil-Infused Exfoliating Powder, $36; sephora.com