There have been massive ups and downs with the weather in New York. One week it's 89 degrees and sunny, the next week week it's 65 and rainy and then today you have a brisk 55 degrees and overcast. I thought I moved out of New England?!
Well, with this bizarre and constantly changing weather comes a face freak out. My skin has been having a total identity crisis for the past two weeks. One day it's dry, and the next day it's oily. This weekend I woke up with my chin a pimply mess! I felt like I was hitting puberty all over again.
I needed something to balance out my complexion so I decided to try the Boscia Luminizing Black Mask. It's a peel-off mask that is supposed to remove dirt, toxins and dead skin all while exfoliating your face and clarifying.
I applied the mask to my clean, dry skin. Then I let dry for 15-20 minutes.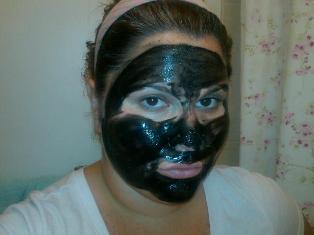 I realize that I look like I'm about to engage in a black ops mission (why didn't I smile?!) but no, it's just me in my bathroom after applying the mask.
I was totally excited about peeling the mask off. It's like when you were in kindergarten and you used to put glue all over your hands and then let it dry so you could peel it off. Sheer, innocent fun!
Anyway, I waited the maximum amount of time, 20 minutes and then went into my bathroom to pull off the mask. It was surprisingly easy to get off.
Here's a picture of me mid-peel: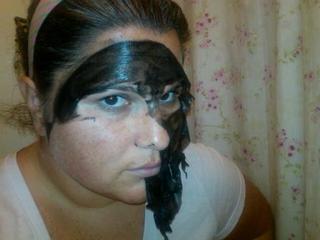 Again, I look extremely unhappy to be here, but I promise it was really fun! I think I expected the mask to be like one big Biore strip. I definitely didn't see any yucky black heads attached to the mask when I pulled it off, but my skin was definitely more luminous and radiant.