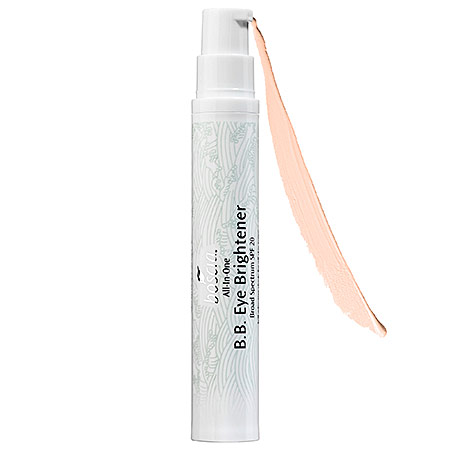 At Beauty High we constantly have new products crossing our desks and are always on the hunt for the next best thing. "The One Thing" is our way of sharing with you that must-have product that you need to introduce to your lives right now, whether it's from a drugstore or a department store.
Every day we moisturize, cover, and highlight the area around our eyes in an effort to look less, well, tired. The process can get a bit tedious and buying multiple products every time we run out turns pricy pretty quickly. For these reasons, we love finding the double duty products that can save us time and money. Enter Boscia's All-In-One BB Eye Brighter with SPF 20, a multitasking eye perfecter with sunscreen that conceals, brightens, and hydrates the delicate eye area in one fell swoop.
MORE: The Best and Brightest Sunscreens to Hit the Market This Summer
What Makes It Different: 
Formulated with a mixture of natural ingredients, each botanical targets and enhances your skin's appearance.
It's a self-adjusting shade suitable for all skin types, so there's no guessing about which color to buy.
With this tiny package, you get four for the price of one: the SPF, concealer, brightener, and hydrator are all blended into one cream.
Why It's The One Thing:
With one small application of cream in the morning you're set for the day. Boscia's brightener helps prevent dark circles, puffiness, and pigmentation, all while providing anti-aging benefits. With a product like this, mornings are way easier on the eyes.
Where to buy: BOSICA All-In-One BB Eye Brighter Broad Spectrum SPF 20, $38.00, Sephora.com