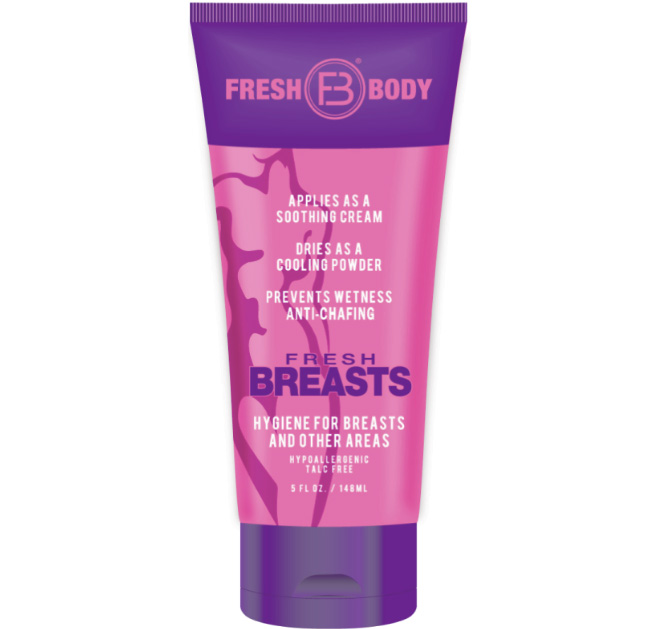 Beauty products are getting even more specific. There are anti-agers for your neck, cellulite busters for your butt and even a cream that targets arm jiggle. And now there's a new product that you never knew you needed: boob deodorant.
Yes, Fresh Breasts ($11.99, freshbody.com) is a lotion that "was scientifically created to keep you and your 'girls' dry and unchafed so there's no more of those uncomfortable and awkward arm-crossed encounters," says the website of Fresh Body, the company that has also brought us Fresh Baby's Bottom and, for men, Fresh Balls (I'm not making this up). Fresh Breasts is aluminum-free, talc-free and paraben-free and dries into a "silky" powder that promises to keep sweaty boobs — or "swoobs" — at bay.
Of course, I had to try it. I applied the lotion before a sweaty kickboxing class and watched as it dried into a whitish powder. After an hour of jabs, crosses and roundhouse kicks, my sports bra was no drier than it normally would have been, but the inside was covered with a gross deodorant residue.
To be fair, I suspect this product is more for red carpet situations than for intense workouts, and as a B-cup, my "swoobs" may not be the intended audience. The lotion does give skin a smooth, slippery texture that would definitely help with friction (for those of us who've not achieved a "thigh-gap," maybe?). I'm planning to try it as a blister blocker on my feet next time I wear heels. And to keep a towel handy when I go kickboxing.
Read more: We Tried It: Jennifer Aniston's Weird "Cupping" Therapy