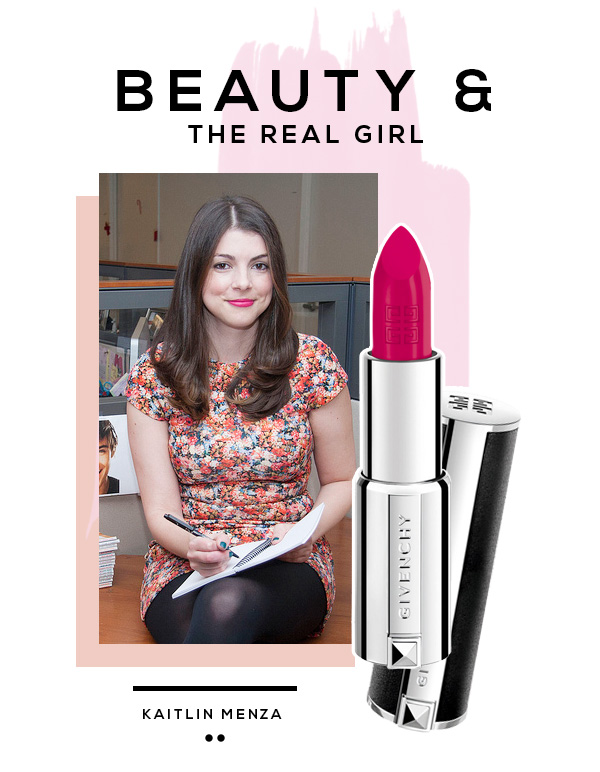 Going backstage and learning tips and tricks from the professionals may be an adventure, but sometimes, the best tricks come from real girls. In "Beauty and the Real Girl," we learn the best beauty tips, tricks and secrets from girls just like us.
While the popularity of a bold lipstick hue isn't likely to fade, the actual pigment on your lips doesn't always last past dinner. And even though bright pinks and dramatic reds pull together a look like none other, the constant need to reapply the formula—one that's drying, at that—is extremely frustrating. So when we found out that someone has found gold in a matte lipstick that lasts and keeps your pout feeling hydrated, we couldn't help but share the news.
Kaitlin Menza, a writer and editor, scored a designer cosmetics dream when a friend suggested she pick up one of Givenchy's bright pink lip products. She shared the scoop on her bold find below and commented on the added bonus of its gorgeous packaging.
MORE: 10 Things No One Ever Tells You About Lipstick
"I really like bright, bold, matte lipsticks. They are the easiest way to look pulled together, and putting one on feels so fancy and feminine. I eased in with classic reds, but a friend recommended this brilliant fuchsia. Usually, I need lip balm under matte lipsticks, since they can be drying, but this one is so smooth and moisturizing. I get comments on it every time I wear it. Plus, that stunning color actually lasts, instead of doing the thing where it fades out to the corners of your mouth. I usually have to wash it off at the end of the night. And of course, the Givenchy packaging is impossibly luxurious. It has a black leather case!"
Where to Buy: Givenchy Le Rouge Lipstick in 205, Fuchsia Irresistible, $36, Barneys.com