Being a makeup artist I love to take bold chances with my makeup each season, and I get truly excited when I see brave ladies who are not afraid to wear bright colors. Take this true beauty I met at a New Years Day party in Sydney, Australia, who wore this amazing shade of fuchsia lipstick and pulled it off perfectly.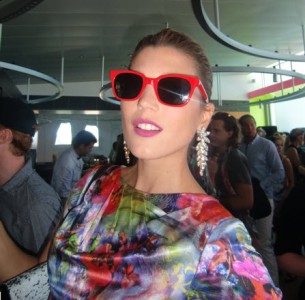 The trick to pulling off bright lips is to keep them moist and matte with no goopy gloss on top. Pair your bright lipstick with simple makeup and hair. If it's a red, hot pink, orange or coral lip color, keep it sleek and chic with a simple ponytail and lots of black mascara and that's about it. This will allow you to wear the bright hue without looking like you're over doing it.
Don't match your lipstick to your outfit, either. You can wear a red dress and a coral mouth, or an orange dress with a hot pink mouth to look more modern and stylish – mix it up a bit!
My top picks for lipstick right now are NYC Ultra Moist Lip Wear in Retro Red, Yves Saint Laurent Rouge Volupte Silky Sensual Radiant Lipstick in Provocative Pink, Natural Beauty Inspired By Carmindy Color Comfort Lip Color in Sunburst, Makeup Forever Rouge Artist Intense #39 and Lipstick Queen Sinners Opaque Lipstick in Coral. So in the new year spice up your life with a little bit of color!
As an established makeup artist, many beauty brands send me samples of their latest products for consideration. I only write about the items that I truly love and I always abide by Daily Makeover's Editorial Ethics Pledge in each of my Positively Beautiful posts.