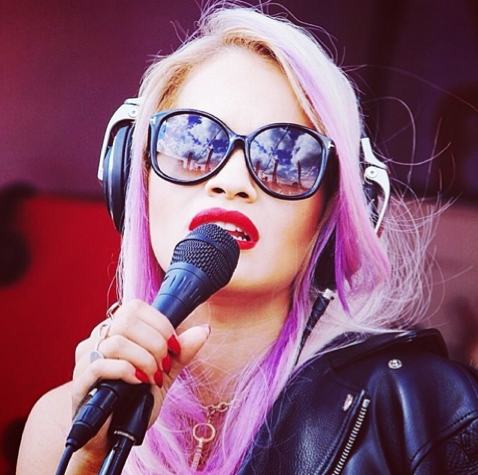 One of the best trends in beauty (at least in our humble opinion) is the emergence of big, bold, not-really-real hair colors. Pastels have entranced us, the rose gold trend had us at "hello," and the emergence of gorgeous greens, blues and purples have us stopping people on the street to get their stylist info. So, we wondered what trends celebrity colorists love the most AND if they could get us some sneaky tips to getting and keeping those rad hues. Here, in their own words, are four of the top colorists from across the country and the 411 on big, bold hair hues:
The expert: Kari Hill, L'Oreal Paris Consulting Celebrity Colorist
Favorite bold color trend: "After just returning from a trip encompassing everything from the East Coast to the Deep South, I agree that people are becoming more comfortable with bolder hair color, ranging from soft pastels to vibrant primary colors. My favorite 'bold' color right now is red because of the wide spectrum of shades and tones. Feria has an amazing copper shade I love, Deep Copper 74; it's perfect for a bright summer glow. If you want to go bold red AND ombre, Feria Ombré R50 is an intense color that allows you to be able to take advantage of two trends at once.
MORE: Pastel Hair Color: The Truth Behind the Maintenance
Pro tip to get the look: The most important thing about choosing a bright, bold color is that you need to accept the commitment, requiring more maintenance than a softer, natural tone. Initially, this is achieved by keeping up on your color, as bright shades tend to fade fast.
How to get lasting results: "Make sure you're using a good shampoo and conditioner to protect the vibrancy and shine of your color without stripping it. Also, try to keep your hair covered while you're in the sun and outside of the chlorine and salt water. Summer elements can quickly fade your bright bold color!"
The expert: Rita Hazan, Celebrity Colorist and owner of Rita Hazan New York.
Favorite bold hair color trend: "Everyone is going lighter and pastels like lilac, purples, blues, pinks and yellow are also gaining popularity. Violet hair has become popular because it was the Pantone color of the year, and it's a very easy color to wear; much softer and not as girly as pink, which is much more feminine. Violet is also edgier, yet still has a neutral tone to it that can be worn by almost anyone."
Pro tips to get the look: "If you want to dye hair an extreme color, it has to be bleached out first so the colors can bleed into the hair. If you don't want to dye the hair entirely, you can do just tips or an accent or a streak – something timeless that doesn't look too trendy. It doesn't all have to be the same color. It can be multi-dimensional without even trying.
You can even do something temporary, like using my Pop Color, which I created because I was inspired by coloring Katy Perry's hair purple and pink. It gives you more control; if you change your mind, you can wash it right out. The fun part is you can play around with it and do different sections of your hair, whether it is just the tips, or even your bangs."
How to get lasting results: "In the summer between the sun and swimming, your color fades a lot faster. A great gloss like Ultimate Shine Gloss, is the perfect prevention. As color fades a little, the gloss refreshes the color as if you'd never left the salon, and your color will be vibrant and glowing. The gloss also deposits some color back into the hair as well as lustrous moisture and shine. You'll never have to worry about dullness or fading between salon visits.
MORE: Pastel Hair: Everything You Need to Know
The expert: Aura Friedman, Colorist at Sally Hershberger Downtown
Favorite trend: "Pastel colors are definitely great, and I love deep, unexpected tones like dark green (which I've done to my own hair several times,) and purple. I just like anything where someone is being expressive with their hair and it's done tastefully. I'm all for bold hair done well. Anything can look good on anyone if it's done well and executed in such a way where it doesn't look like you just went to a store, bought a bottle of dye and threw it on yourself. Apply it in a clever manner."
Pro tips to get the Look: "If you want really bold color that's going to look super fresh and last, you do have to bleach it, which can be dangerous to do on your own. In fact, there have been a lot of people who come in who've been successful bleaching their hair only to find that it becomes brittle and starts breaking off, usually around the second or third application. One of the reasons why I book so much time for my double-process clients is that you have to be diligent in the application to avoid damaging the hair. These are precautions you really can't take on your own, so please go to a professional if you want to successfully lift your hair without damage. I tell my clients that after you've been lightened, if you want to go to the store and buy a jar of Manic Panic and dye your hair, go for it. But that's only after they've been professionally bleached."
Suggested maintenance schedule: "The general rule of thumb on how long your color will last is this: the darker the color, the longer it'll last. The pastel tones are more fragile, and you have to actually lighten the hair even more (so the cuticle is more open) to get the color to adhere. With pastels, I make a conditioner for them that can help the color last about six weeks. If you bleach, your roots need to be touched up every four-to-six weeks. In the end, the bold color lasting and looking great depends on the placement of the color. If you want an ombre with a bright color at the ends, the color will last a lot longer since your hair can grow out and the color just moves further down the head.
How to get lasting results: "If you want to protect your hair color, definitely use the Nexxus Color Assure Pre-Wash Primer. That is an absolutely necessary step. You use it before you get into the shower and it helps color vibrancy last at least two times longer than if you're not using it. It's a great tool to protect your hair. I'd then follow up with the Nexxus Color Assure Replenishing Color Care Shampoo and Conditioner."
The expert: James Corbett, Clairol Color Director
Favorite bold color trend: "I'm such a fan of bold color pairings as a way to shake up the regular expected hues of blonde, brunette and redhead. If you paint pieces throughout your hair, you'll get amazing results!"
Pro tips to get the look: "First, cut aluminum foil into 5"x8" pieces; you'll want to lay the hair you want to color on the strips of foil, then paint the color on using a small brush. If your starting color is a medium blonde or medium golden blonde, try Age Defy 5R Medium Auburn to create a cool rosewood color with a slight violet hue. Brunettes in shades of light brown to light golden brown, can weave in dark, rich browns like Age Defy 3.5 Darkest Brown, which accents their hair with rich pieces of dark espresso color. Deep redheads can add that same dark brown as well to create a blackened-chocolate-cherry shade."
How to get lasting results: A little planning and conditioning is key to maintain your bold new color. Keep your hair covered in the sun. Wet your hair with water before swimming and rinse immediately after exiting the pool. You can also add some water to your sunscreen and use it as a sun protector on hair. Also, yogurt masks are amazing. Yogurt is full of protein and lactic acids that help preserve your follicles by keep your cuticle closed tight, which produces shiner, healthier color."
Image via Instagram