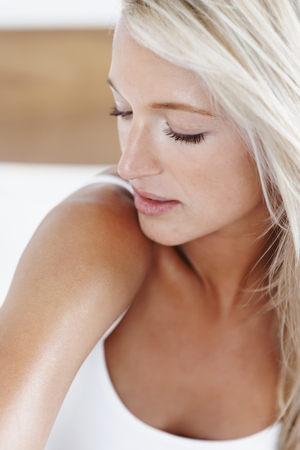 Winter can make us feel pasty and pale, and we are all yearning for a little luminosity and glow this time of year. You do not want to look savage tan in the winter months. You want to embrace your natural skin tone and just add a slight radiance booster to drag yourself out of the winter blues. These products will definitely do the trick!
Becca Shimmering Skin Perfector SPF 25+ in Opal
The quickest way to create an all-over shimmer is to apply a liquid or cream highlighter to the body. This particular product ($41.50, Beccacosmetics.com) is amazing for the daytime, because it contains such a high protection factor, so it's really the shimmer that keeps on giving. It blends on beautifully and is not too glitzy. And don't worry about staining your new blouse! This product doesn't rub off on clothes.
Aero Mineral Makeup Mist Hydrating Mineral Shimmer in Golden
This mist ($14.99, Walgreens.com) is the quickest way to spritz on a halo effect, and it dries instantly, leaving the contours of your body illuminated.
Nars Body Glow
If you want a bit of scent with your shimmer, this body oil ($59, Sephora.com) gives a hint of tint and will leave you smelling like Tahiti. Make sure you do not wear light colored clothing or silk when you wear it, as this can stain if you are not careful.
Jergens Natural Glow Express Body Moisturizer
This multi-purpose body lotion ($8.49, Drugstore.com) is a way to instantly add shimmer to the skin while gradually building the softest tan, which will look perfectly subtle in the winter months.
e.l.f. Studio Body Glow
This product ($6, Drugstore.com) comes in a powder form that you can just sweep over the skin for a lightweight touch of sheer shimmer.
As an established makeup artist, many beauty brands send me samples of their latest products for consideration. I only write about the items that I truly love and I always abide by Daily Makeover's Editorial Ethics Pledge in each of my Positively Beautiful posts.