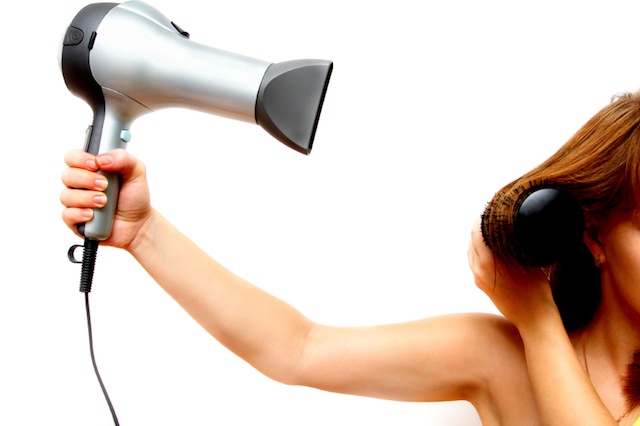 For those of us who are more than slightly addicted to blowouts, we spend a considerable amount of time trying to get them to last. Serums, shower caps, hissing like a cat at the first sign of rain – we're pretty adamant about protecting our investment.
But a good lasting blowout starts with the actual blowout itself, and there are certain tips and tricks to getting smooth, lasting results. We called Erin Taylor, Blowout Expert at Blow, The New York Blow Dry Bar, the woman who is on our own speed dial for a bulletproof blowout. Here, in her expert words, are how to get the best results from your blowout at home.
Use good shampoo, take it easy with the towel: Starting out with a good shampoo and conditioner is super important since it sets the basis for the texture of your hair. Also, the key to getting a smooth blowout depends on how you towel dry your hair. Don't rough dry if it your hair is coarse and curly; you're just going to fray the cuticle and make it frizzy. If you have smooth hair, go ahead and towel dry but try to be gentle with your hair, no matter what your hair type.
Use the right tools: A hair dryer with great wattage is important.  Also, a boar bristle brush is always a good choice; it smoothes the hair and seems to get every single strand; paddle, flat brushes are great for super straight styles, round brushes are great for volume and bounce. Also, be mindful of the products you use to prep your hair. If you have frizzy hair, a good, nourishing anti-frizz serum is a great idea, and everyone should use a good blow dry lotion for a long-lasting blowout. Blow Pro Ready Set Blow Express Blow Dry Lotion is one of the best. Apply it from the mid-lengths of your hair to your ends.
Divide and conquer: First, you'll want to section your hair into four sections: two side sections from the ear forward, a back section starting from the back of the neck up to just below the crown, and the very top section on your head forming a rectangular shape (you'll want focus on that top section to get the most volume). Starting with the back section, work in two-inch increments, making sure the width of the section isn't too wide for the brush.
MORE: 5 Easy Hairstyles You Can Master in Under 5 Minutes
Focus on the roots, then "rock and roll": The trick to getting each section to lie straight for a long period of time is to make sure the roots are completely dry. Hold the section taut and hit it with the heat of the dryer on all four sides: top, left, right, and underneath. Continue until the root is dry, then angle the hairdryer so it follows the brush and dries the hair behind it. You'll want to work the brush in a "rock and roll" motion from the mid-shaft to the ends (moving the brush back and forth a bit to keep tension but give the hair movement), then roll your wrist in a twirling motion at the ends to give your hair some curl and life at the ends.
And now, for the "crowning glory": If you want great volume at the crown, take the top section and using the same-sized two-inch sections, you'll want to blow each section overextended forward and backward until it's dry to give it lift. Roll each section when it's dry like it was on a giant hot roller and pin it so it's standing on top of your head. Dry each section of the crown and add it to the top curl in this manner, and keep doing that until the whole top section is dry. Use the cool shot button on your dryer to set the style and to make sure it's really dry.
Make it interesting: Basic flat blowouts are sometimes kind of boring, so you'll want to direct the brush and the dryer towards the center of the back of the head on both your sides to give your hair life and a good amount of volume. Also, if you twist your wrist at the ends, it gives your hair a nice flip on the ends. Alternate the direction of your wrist every section (flip up, then down, and so on) so your ends are going in different directions. It adds life and interest to your style.
MORE: 8 Reasons Bold Lipstick Can Make Your Life Better
Tousle and style: Once each section is cool, let all the sections down and shake them with your hands (flip your head upside down if you have longer hair) and it's like magic: amazing volume, great style, gorgeous curl. Use a little bit of hairspray if you want and you've got a lasting blowout!
Maintain the style: The best way to maintain a blowout is to gently twist and flip your hair up into a bun and secure it with an old-school cloth scrunchie at night before you go to sleep. If you get oily roots, I love a little dry shampoo at the roots  and along the hairline (our Faux Dry is amazing). Just hit it with a dryer in the morning if you need to place a little air under the style, and you're good to go!
Image via Istock