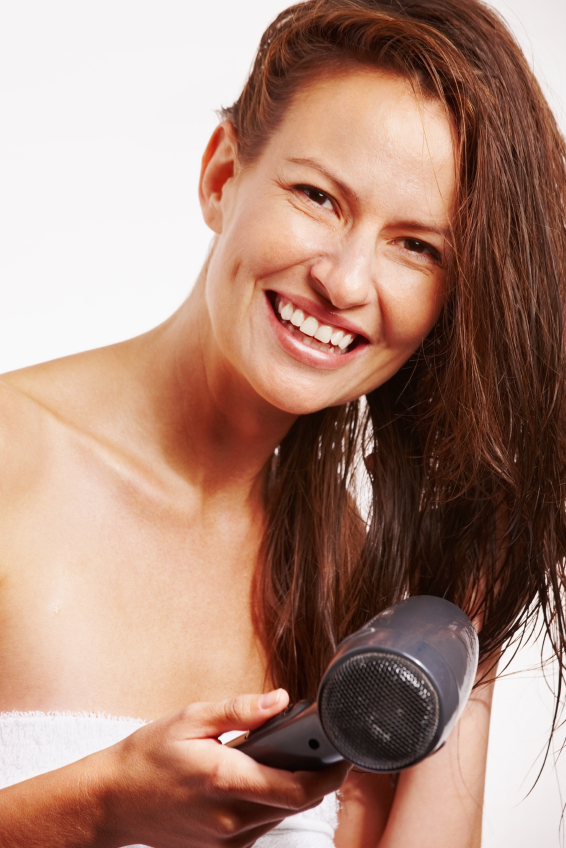 Getting that perfect, fresh from the salon blowout while at home has always been a struggle. It's never as shiny or as bouncy, no matter how hard we try. While on the quest to figure out how our talented hairstylists manage to turn our lackluster hair into shampoo ad-worthy locks, we found out some reasons why our at home blowout just isn't giving us the results we want. Below, eight tips for getting your at home blowout perfect.
Not washing out all of your conditioner: Leaving conditioner in your hair will leave residue that will ultimately weigh down your hair and ruin your blowout.
Using a terrycloth towel to remove excess water: Try using an old t-shirt to remove excess water from your hair. The smoothness and softness of the t-shirt compared the the towel will help minimize frizz, making your hair smoother and silkier.
MORE: The Best Blow Dryers For a Year's Worth of Good Hair Days
Not using a heat protection gel: Using a heat protectant or styling cream will not only protect your hair from styling tools, but it will also help detangle your hair and add shine.
Not using the blow dryer nozzle: Try putting the nozzle on your dryer for shinier, sleeker hair. Pointing the nozzle downwards while drying your hair will prevent frizz and help seal your hair cuticles, creating healthier looking hair.
Not dividing your hair into sections: Drying your hair with a round brush in smaller sections will give you more control and will help you achieve a more polished look. The smaller the sections, the better the blowout (though smaller sections means it will inevitably take longer).
MORE: The Blowout: How to Do It Yourself and Make It Last
Not starting at the front: Many people start drying their hair in the back, but the front pieces are the most important. Make sure you blow dry the front pieces of your hair first before your arms get tired because those are the pieces everyone sees first.
Not trying rollers: Add velcro rollers to the top, front pieces of your hair after they are dried. This will keep the hair voluminous as it cools and sets, giving hair the extra bounce it needs.
Using a strong hold hairspray. Flip your hair upside down and finish off your blowout with a flexible hold hairspray, not a strong hold, which can make things stiff and hard. Using a fine mist hairspray will lock in your blowout while allowing your hair to maintain movement and body.
Image via Istock Photo