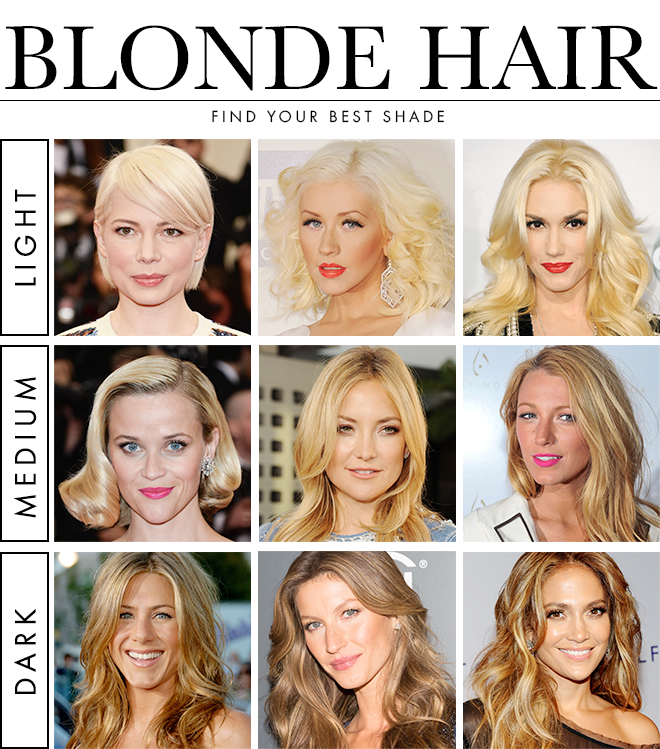 Going blonde is no easy feat, but finding your most flattering shade of blonde is even harder. We turned to our favorite blonde celebrities for inspiration and blonde hair color ideas.
Light
Light blonde is akin to a white, platinum blonde. Some of the most iconic blonde hairstyles include this bleached out color. Those with pale skin can pull this color off, as Michelle Williams proves, plus Christina Augilera and Gwen Stefani illustrate that it goes great with a bold red lip.
Medium
This warmer shade of blonde is what we see today as a traditional blonde color. Not too light and not too dark, this color is just right. This is a great color for those with a medium skin tone, since lighter blondes will wash you out. Plus, Reese Witherspoon, Kate Hudson and Blake Lively prove it looks amazing against light eyes.
Dark
Sometimes referred to as "bronde" or caramel, this color is perfect for the brunette who wants to ease into a lighter color. And instead of going blonde all over, the look allows for just highlights. Jennifer Aniston, Gisele Bündchen and Jennifer Lopez have been wearing the color for years. Clearly, it looks amazing against sun-kissed skin.
Read more: How to Find Your Best Shade of Red Hair