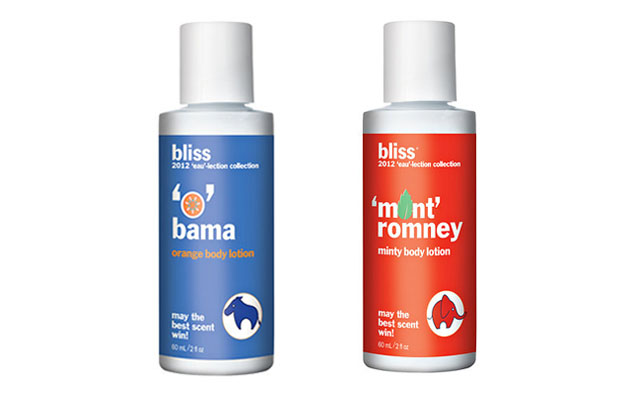 As the presidential campaign heats up, it makes perfect sense that beauty brands would get involved in the action as well. Bliss, the well-known spa and beauty brand, has created two lotions to hand out at the upcoming Republican and Democratic National Conventions: 'O'bama, an orange-scented lotion wrapped in the party's royal blue, and 'Mint' Romney, packaged in Republican red.
Mike Indursky, Bliss's president, spoke to the New York Times regarding their decision to add a few puns (in the form of beauty products of course) into the campaign. "There's a lot of mean-spirited politicking going on. So we though, 'Why not have fun with it?'"
Bliss has actually jumped into the political game in the past, using politics in their promotional campaigns when President George W. Bush exited the White House. The company ran and advertising campaign for its waxing services that said "Say farewell to Bush." According to The Times, Mr. Indursky said that this time, the idea actually came from a conversation with Arianna Huffington, who invited Bliss to help her install spas at each convention. At these spas, Bliss employees will be posted to poll which lotions each visitor prefers.
You don't have to be attending the conventions to receive one of these politically-charged lotions. Starting August 27th, Bliss shoppers who spend $50 or more online can pick one of the lotions as a gift with purchase.