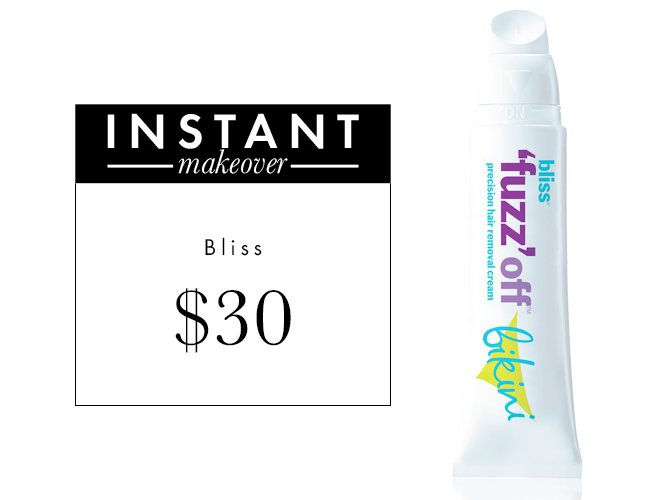 Bare skin poses one obvious problem—and we're not referring to our winter cupcake obsession. The more we bare, the more we rely on the razor. And the more we rely on the razor, the more obvious it becomes that it's not our best option for a smooth bikini line. While shaving gives a guaranteed razor burn and waxing takes too much prep time (and by prep time, we mean an insanely long growing out period), Bliss's new hair removal cream offers the perfect alternative.
Bliss 'Fuzz' Off Bikini Precision Hair Removal Cream ($30, sephora.com) instantly removes hair with the ease of a shave, but with the precision of a wax. With a blend of vitamin E, shea butter and cocoa butter, the skin is kept hydrated and smooth—no bumps, no shaving cream required, we promise. Similar to a wax, the hair is pulled from the follicles using calcium thioglycolate but without experiencing that sharp and painful tug on the skin.
Simply squeeze the tube to release onto the applicator. Spread the cream on your bikini line and let sit for five minutes. Wipe off the cream with a damp washcloth. Our only complaint was that it took closer to 7 minutes to remove every hair. For best results, remove just a dab of cream at five minutes. If hair remains, let it sit a bit longer.
Because the hair is actually pulled from the follicle, we didn't need any touchups for a week.
Read more: You're Doing It Wrong: Shaving Your Legs