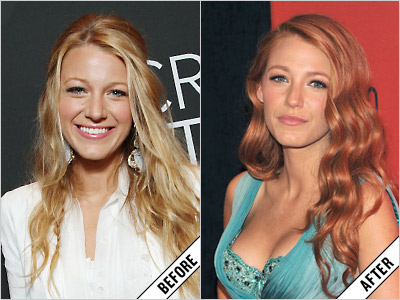 Photos: Before © Eric Charbonneau/WireImage; After © Steven Lovekin/Getty Images
Blake Lively has become a fashion darling of Vogue editor Anna Wintour (which is not an easy feat, mind you), Karl Lagerfeld and Christian Louboutin, to name a few high-profile fans of Lively's all-American look. Wintour even put the Gossip Girl star on the cover of Vogue's Best Dressed Special Edition issue.
Even though Lively's clothes get most of the attention these days, her signature trait has always been her long, shining blonde hair. Even when she played Carol Ferris in The Green Lantern, the actress opted to wear a brunette wig instead of dying her hair, which is why Lively surprised everyone so much at last night's Time magazine's annual 100 Most Influential People in the World Gala.
Time magazine named Lively one of its most influential people of 2010, and the actress received a glowing write-up in the corresponding issue from director Baz Luhrmann. When Blake stepped onto the red carpet at the gala, she surprised everyone with a new strawberry blonde hair color. With her cascading red waves and turquoise dress, the actress looked more like Ariel from The Little Mermaid than her usual California girl self.
Rumor has it that the actress may be sporting the new hair color because she's been offered the part of Glinda, the Good Witch of the South, in the upcoming film Oz, the Great and Powerful. What do you think of Blake Lively's new hair color? Should she have stayed blonde, or do you like the red?


Try on Blake Lively's hairstyles in the Makeover Studio!