Our friends at StyleCaster tell you how to survive the busiest shopping day of the holidays.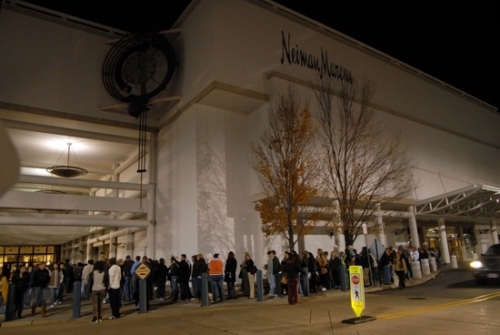 Although it may not have the same glamorous appeal as Fashion's Night Out, the concept remains the same for Black Friday: Inspiring shoppers to spend, spend, spend! Although you won't be drinking champagne, sporting your favorite cocktail dress and heels while running from store to store, you will have to do so some serious preparation to insure shopping success come November 26.
Plan Ahead
Pick up a small notebook and start planning out the items you want to purchase; a great time to start thinking about gifts you want to give. Both technology and fashion are heavily reduced, so start planning now. We suggest finding deals on items such as an expensive television, a great camera, an amazing new iPhone, an expensive handbag, or the warmest winter jacket; all perfect items to invest in on a day like Black Friday.
Clip Coupons
After you've narrowed down what you want to buy, try and find as many coupons as possible and keep them all clipped inside your notebook next to the item you wish to buy. Make sure to list all of the stores where the item is available and compare the price points at each store. Look carefully at the advertisements and pay attention to the time the item will be going on sale and how many will be available. You'll want to look for the most amount of that item being sold, at the lowest price, starting the earliest. You may be able to use your coupons at different stores, as some stores honor lower prices advertised elsewhere.
Check Online
Fast forward to the night before Black Friday, you've got your notebook full of great finds, and your excited for the shopping adventure. Get a head start and log in at midnight for some Black Friday online sales; however, the real online sales start on the following Monday, known as Cyber Monday.
Get Some Sleep
Don't stay up too late surfing the sales, as you'll want to get a few hours sleep before you're out the door at 5 a.m. Set your alarm early and fill the coffee maker before you go to bed, that way making a quick cup will be easy before you're out the door.
Maintain a Level Head
Drive safely on your way to each store, and keep a keen eye out while in stores for secret sales. Maintain a levelheaded mind and stick to your list. Try not to gravitate towards items just because there's a loud crowd of women surrounding the best vacuum cleaner, or something else that you don't need. Manage your time in each store, and move on to the next.
Lastly, here are our favorite stores from Black Fridays past, what time they opened, and what you kind of sale you can snag: Bloomingdales, with 50-60 percent of summer and fall merchandise, be sure to line up at 7 am. After you're done at Bloomies, head over to Saks (which is probably in the same mall). In past years they've given out promo codes to receive additional 40 percent off already marked down merchandise. Neiman Marcus always has a long line of sale scavengers, so be sure to get there early. Of course, if you're going the more technical route, Best Buy's doors open at 5 am and Toys'R'Us at 5 am.
Good luck on Black Friday 2010!
More from StyleCaster:
Winter Beauty Palette: Nude Skin, Coral Lips
How To Get The Perfect Blowout
Contributed by Arielle Gardner of StyleCaster