Leather jackets and rock 'n roll booties are fashion's hottest tickets this fall. I absolutely adore my new paper-thin deep slate motorcycle jacket to the point that I will never take off! I can actually roll it up and stick it in my purse. I digress. So, a lot of my fashion forward pals have called me inquiring about what most beauty focused brains want to know. What the heck kind of makeup do I wear with this look during the day? Too much eye makeup and it looks costume-like and the clothes seem to overpower you! Don't fret my little rock star: Here is the beauty concept to go for this fall with your cool new look. Make sure you have a glowing soft complexion to counter the toughness of the clothes.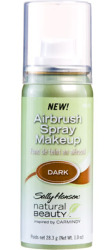 Start by applying a luminizing face primer and then apply a little Sally Hansen Natural Beauty Inspired By Carmindy Airbrush Spray Makeup to a sponge and blend it on the face. Add concealer where necessary and follow with a light dusting of translucent powder to set it.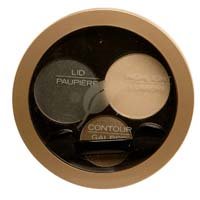 Fill in brows ever so slightly to deepen and extend them a bit. Try using Benefit's Hard Angle Brush and the Makeup Forever Brow Correctors. Now apply a shimmering highlight shadow under the brows and on the inner corners of the eyes and then sweep a gunmetal grey shadow across the upper lash line using a flat angle brush. I love the contour shade in my Sally Hansen Natural Beauty Inspired By Carmindy Instant Definition Eye Shadow Palette in Storm. Keep sweeping it on until you have the desired thickness and wing it out slightly at the ends. You are in essence using the shadow as a softer way to define the eye then using intense pencil eyeliner, which looks better for evening. Smudge a speck of shadow under the lower lash line as well to make the lash line look lusher and follow with black mascara on top only.
Swirl on a peachy powder blush and apply a neutral shade of shimmering lip gloss in a similar color. This peachy hue will bring color to the face and give you a modern balance to the deeper daytime eye.
Now you won't look too severe or washed out as the softer version of a lined eye will be able to keep up with your badass exterior!
As an established makeup artist, many beauty brands send me samples of their latest products for consideration. I only write about the items that I truly love and I always abide by Daily Makeover's Editorial Ethics Pledge in each of my Positively Beautiful posts.