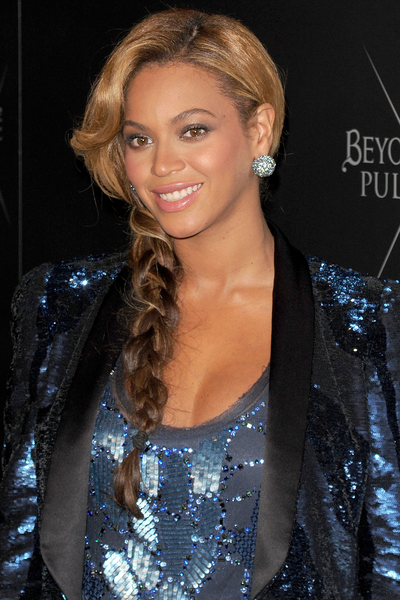 Photo: © Joe Stevens/Retna Ltd.
With in-between weather in our forecast, Beyoncé's banging side braid is the perfect go-to 'do. The 30-year-old superstar, who is expecting her first child with rapper husband, Jay-Z, rocked this braided hairstyle at the New York City launch for her latest fragrance, Pulse. The intricate, yet relaxed plait accentuates Beyoncé's blond highlights, as well as, her mommy-to-be glow.
Try on braids in the Makeover Studio!
Want to recreate a messy side braid like Beyoncé? Our friends at Stylelist got celebrity hairstylist Sally Hershberger's five simple steps on how to get the look at home:
1. Spray damp hair with Sally Hershberger Hyper Hydration Super Keratin Spray to lock in moisture and leave hair smooth.
2. Then flip your head upside down and use your fingertips to brush through the hair while blow drying. This will help to create a textured look throughout.
3. Spritz on a thickening mist like Sally Hershberger Plump Up to give hair texture.
4. Sweep the hair to one side, separate it into three sections and braid. Allow the little pieces that may start to stick out and fray to hang loosely as this adds a messy look to the style.
5. Finish with a flexible, lightweight hairspray for a strong hold without any heaviness or stickiness.


Try on Beyoncé's hairstyles in the Makeover Studio!
More from Stylelist
Brad Pitt Beauty Evolution
Rashida Jones On Making Friends With Her Hair
Brazilian Blowout Is Dangerous, FDA Says