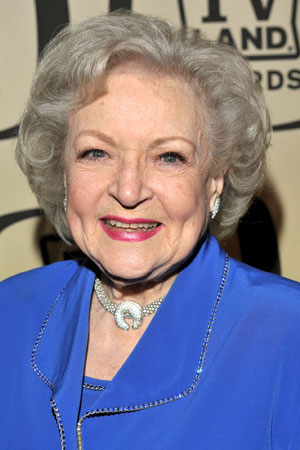 Photo: © Lester Cohen/WireImage
Did you know that NBC executives have asked Betty White, 88, to host Saturday Day Night Live several times during the 70's, 80′ and 90's? The Golden Girl always politely declined, but this year Ms. White finally said yes after a grass-roots campaign on Facebook, which mobilized over 500,000 fans, begged her to host SNL. Now this Mother's Day Eve weekend, on Saturday May 8th, we'll all get to ring in Mother's Day laughing with the Mom of Comedy herself. The show also recruited alums Tina Fey, Amy Poehler, Molly Shannon, Rachel Dratch, Ana Gasteyer, and Maya Rudolph to pitch-in for an All-Star cast performance.
But why should this epic SNL cast have all the fun? We thought we'd have some giggles too and put Betty White's iconic silvery, bubbly bob in the Makeover Studio. Ms. White has taken on a number of different kinds of roles over the last few decades, but her 'do hasn't changed a bit, nor has her charming, hilarious appeal.
So go ahead, embrace your inner Betty White, and give yourself a White Hot makeover–try on her hairstyle now!