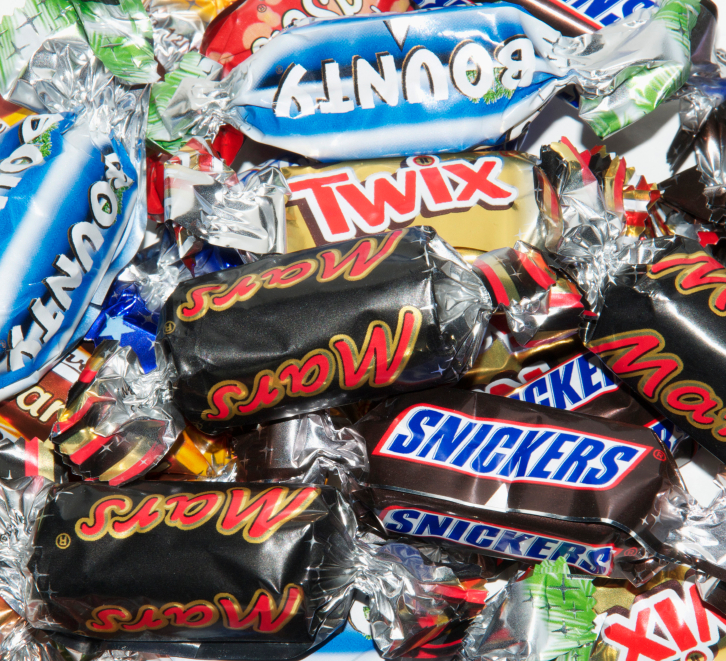 We don't know about you, but our favorite part of Halloween (besides the amazing makeup) is the candy and, perhaps more importantly, the candy that goes on a 70% off sale on November 1. As health conscious (or not) as you may be, no one can escape eating some Halloween candy come the end of October. How are you supposed to resist chocolate that comes in "fun size?" You just can't.
It's pointless for us to tell you that Halloween candy is bad for you. We all know this, and we all eat it anyway (just like you know you should be washing your face twice a day, but you're lucky if you get in one good cleanse). To help you not pack on a ton of weight from Halloween candy, we've broken down the nutritional facts of the most popular candies (based on fun sized samples) so you'll know which choices are the lesser of the evils. Try not to cringe too much when you see which candies are the worst for you (sorry,Reese's fans everyone).
BEST:
Starburst
Calories: 40
Fat: 1g
Sugar: 6g
Protein: 0g
*12% daily dose of Vitamin C, which means you get some nutritional value.
Nerds
Calories: 50
Fat: 0g
Sugar: 12g
Protein: 0g
Skittles
Calories: 60
Fat: 1g
Sugar: 11g
Protein: 0g
MORE: Late Night Snacks That Won't Make You Gain Weight
Hershey Chocolate Bar 
Calories: 67
Fat: 4g
Sugar: 17g
Protein: 3g
M&Ms Plain
Calories: 70
Fat: 3g
Sugar: 9g
Protein: 1g
Milky Way
Calories: 76
Fat: 3g
Sugar: 11g
Protein: 1g
Twix
Calories: 80
Fat: 4g
Sugar: 8g
Protein: 1g
Almond Joy
Calories: 80
Fat: 5g
Sugar: 8g
Protein: 1g
Kit Kat
Calories: 88
Fat: 5g
Sugar: 9g
Protein: 1g
MORE: Beauty Mythbusters: Will Eating Chocolate Make Me Break Out?
WORST:
Candy Corn (15 pieces)
Calories: 150
Fat: 0
Sugar: 29g
Protein: 0
Snickers
Calories: 160
Fat: 8g
Sugar: 17g
Protein: 3g
3 Musketeers
Calories: 190
Fat: 6g
Sugar: 30g
Protein: 1g
Reese's (2 cups)
Calories: 210
Fat: 13g
Sugar: 21g
Protein: 5g
Image via Istock