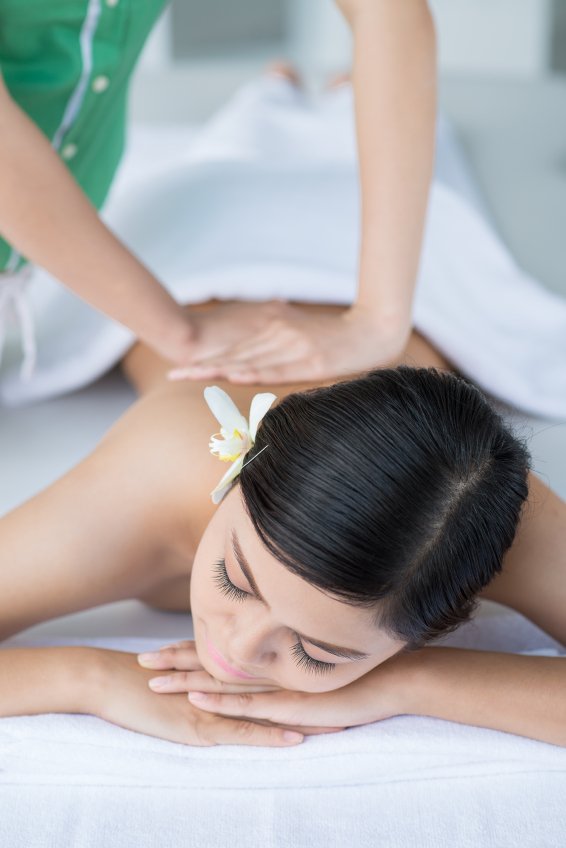 We all love a good pumpkin spice latte, but with fall comes a few less exciting changes. Dryer skin, less sunlight and chilly nights can make anyone feel less than glowing. The best way to ease yourself into the seasonal change? Start by giving your body some TLC.
Whether it's a full body wrap or a luxurious manicure, heading to the spa is a relaxing way to shift yourself into sweater weather. By keeping your face, hair and skin healthy and moisturized, the weather will have less of an effect on you. Below, we've rounded up 10 spas you should visit (and the treatments we recommend getting) so you'll be able to really enjoy autumn.
MORE: 10 Beauty Treatments to Try Before You Die
1. Bliss Spa: With over 20 locations around the U.S., a Bliss Spa is never far. While our first choice of services is almost always The Love Handler (a spa treatment that does exactly what it sounds like), our favorite pick come fall is the Hot Salt Scrub, a stimulating smoothing session that ends with a Vichy shower. If you can't make it to one of the locations, Bliss has their own line of at-home products so you can do some DIY pampering.
2. La Prairie Spa: Located inside of the Ritz-Carlton Hotel in New York, the Beverly Hills Hotel in California and other high end hotels, the La Prairie Spa offers an array of luxe services. We're partial to the Swiss Bliss Treatment, a three hour dream experience that works on your body and face. If we had three extra hours in every day, this is where you'd find us.
3. Jurlique: From East Coast to West Coast, this spa is easily one of our favorites. Besides the hefty line of products that makes us feel the healing spa powers at home, we love getting the Advanced Skin Brightening Facial, a 50 minute service that includes an enzyme peel and a moisture mask that leave your skin glowing.
4. Equinox Spa: After an intense workout, there's nothing like a good spa day. Leave the gym and head to a massage at Equinox, where our favorite treatment is the 24 Karat Gold Facial, which is exactly what you think it is. Talk about luxury!
5. Elizabeth Arden Red Door Spas: From the brand that brought you the iconic fragrance comes a spa day you'll never forget. Head to the Elizabeth Arden Red Door spa for our choice service, the Milk and Honey Sugar Body Glow, a gentle body exfoliation that leaves your skin positively radiant.
MORE: 10 Essentials For: An At-Home Spa Day
6. Oasis Day Spa: Any of the treatments at Oasis Day Spa is great on its own, but we particularly love the packages offered, specifically the Picture Perfect package. For a day full of a body wrap, customized facial, body scrub and Swedish massage, you'll be ready for photos by the time you leave.
7. Exhale Spa: From the best in the yoga business is this relaxing spa where you can unwind. Go for the Power Body Detox treatment and enjoy a detoxifying experience with a muscle stimulation device.
8. Aveda: To give your hair some extra attention, head to Aveda salons and spas to get the royal treatment. With an array of services for hair, body and face, you won't be disappointed.
9. Bloom: When you head to Bloom for the Deliciously Decadent Chocolate Facial, your face will be feeling better than ever. It's packed full of antioxidants and hydration – just be sure you don't try to eat the product.
10. Metamorphosis Day Spa: Go for the Metamorphosis Signature Massage and you'll never look back. This 50 minute treatment with stones on your back and a relaxing massage will take away your worries.
Image via Istock