Ever wonder which shadow shade will enhance your deep brown eyes, or which eye liner hue will really make your baby blues pop? There are two tricks to keep in mind when choosing the best makeup for your eye color. Either go with similar hues, like emerald for green eyes, or complementary ones, which are opposite colors on the color wheel. Read on for our tips on how to intensify your irises.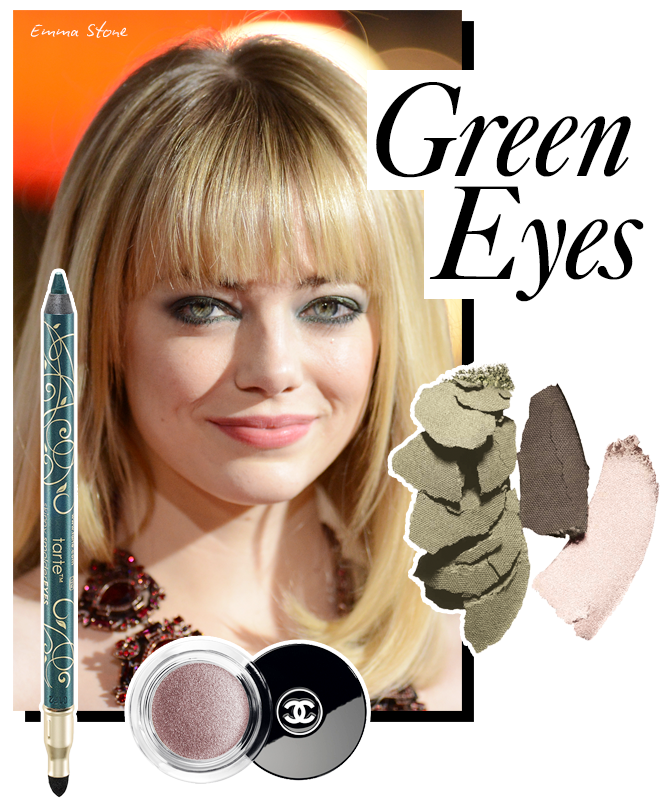 Green Eyes
Any shade of green — whether it's mint, hunter or emerald — will make green or hazel eyes pop. Tarte Skinny SmolderEYES Amazonian Clay Waterproof Liner in Jade ($19, tartecosmetics.com) has a rich pigment, but the thin tip lets you control how subtle or bold you go. Almay Intense I-Color Bold Nudes for Greens ($7.49, almay.com) has a trio of champagne, chocolate brown and olive green for a subtle green smoky eye with highlights around the brow bone.
Since purple and green are opposites on the color wheel, they look extra vibrant when paired together. Chanel Illusion D'Ombre Long Wear Luminous Eyeshadow in 83 Illusoire ($36, chanel.com), a subtle purple, has a gel texture that allows it to be worn as a shadow or liner. For a subtler contrast, try a sheer lavender shadow, like Burberry Sheer Eye Shadow in Lavender ($29, us.burberry.com) that has the same effect.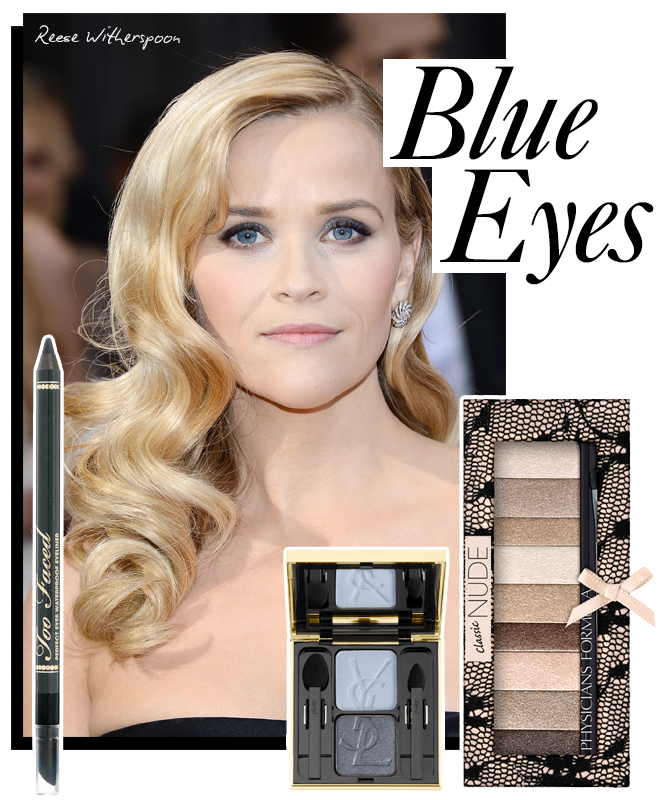 Blue Eyes
Blue eyes pop when played up with black or chocolate brown liner and thick black mascara, thanks to the dark/light contrast. Rich shimmery eye shadows have the same effect. Shimmery taupe eye shadow has a light-reflecting finish that opens up the eyes and the complementary brown undertones make the blue pop. Physicians Formula Shimmer Strips Custom Eye Enhancing Shadow & Liner Classic Nude Eyes Collection ($10.95, physiciansformula.com) is stocked with nine different shadows — from dark brown to taupe and champagne for every compatible hue at your fingertips. And of course, with blue, you can always turn to cool shades of grays and blues, like Yves Saint Laurent Ombres Duolumieres Eye Shadow Duo in 5 Blue Legend – Grey Illusion ($41, yslbeautyus.com). The mini palette includes shadow and liner brushes for an abundance of application options.
However, be careful with very light, almost gray, eyes. Dark shades can easily overwhelm and minimize light eye colors. A soft gray, like Too Faced Perfect Eyes Eyeliner in Perfect Storm ($18, toofaced.com), or silver won't overshadow your eyes' natural beauty.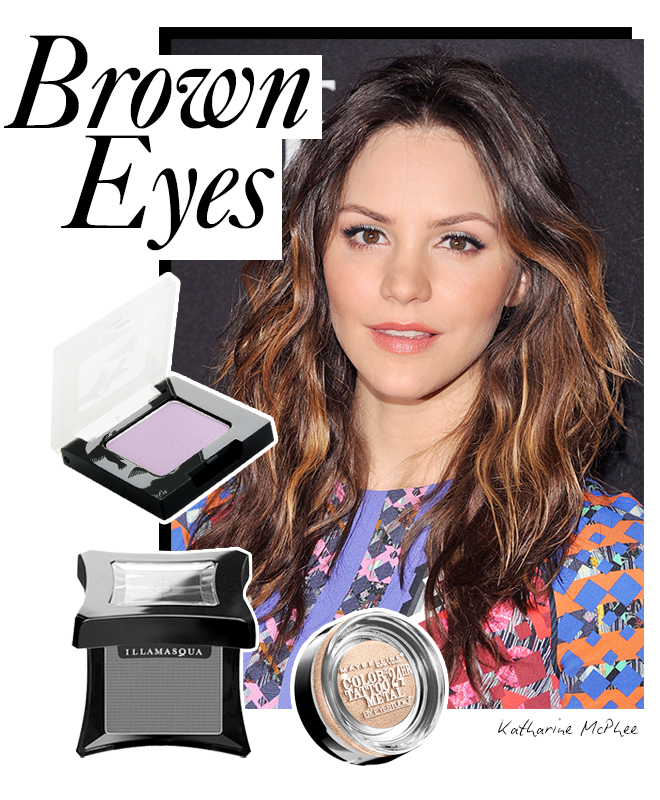 Brown Eyes
Brown eyes are neutral, so you can wear pretty much any color. But to really make them pop, go for a contrast. Pale champagne shadow makes dark brown eyes stand out. Maybelline EyeStudio Color Tattoo Metal 24HR Cream Gel Shadow in Barely Branded ($6.99, maybelline.com) has subtle color, but has a creamy rich texture that shimmers and lasts for hours. Line the inside of your lower lash line with a cream pencil, like Chanel Stylo Yeux Waterproof Long-Lasting Eyeliner in 102 Béryl ($30, chanel.com) to enhance the effect. We love the soft tip and convenient sharpener on the other end.
For a more dramatic look, create a charcoal grey smoky eye using Illamasqua Powder Eye Shadow in Incubus ($24.60, illamasqua.com). The dark grey shadow enhances any darker specks in brown eyes, making them look richer and deeper. This shadow has a matte finish so color doesn't crease on lids.
Any bold hue, such as mint or a bright purple like Benefit Velvet Eyeshadow in Fancy Pancy ($18, benefitcosmetics.com) also offers sharp contrast to browns.
Read more: Find The Best Makeup Shades For Your Hair Color