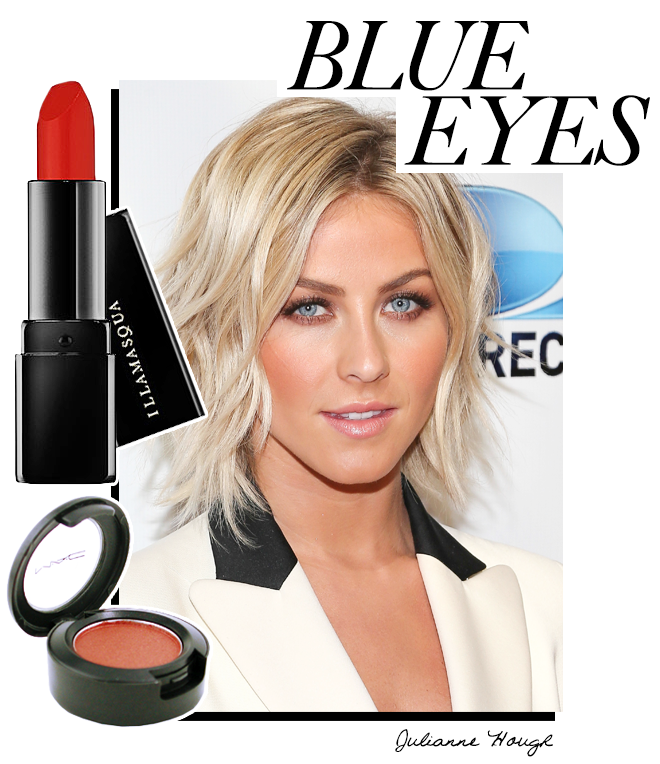 Blue eyes are a beautiful feature, but if you're not wearing the right makeup shades, you risk having those baby blues go completely unnoticed. Samantha Chapman of Pixiwoo told us which colors look best on blue eyes, and here's a hint: avoid blue shades.
"You want what's opposite on the color wheel," says Sam. "Opposite on the color wheel to blue is orange, so you're looking for any colors that have a lot of orange in them. So a brown with an orange undertone is really going to complement it." MAC's Eye Shadow in Coppering or Red Brick ($10 each, maccosmetics.com) are great examples.
"A lot of people think if I've got blue eyes I've got to wear blue eye shadow, but that doesn't work. It doesn't make your eyes more blue, because invariably the blue eye shadow you use will be a more true blue than the color of your blue eyes, so it actually makes them look less blue."
As for lips, Sam says, "If you wear a red or orange lipstick, it looks absolute knockout." Her favorite shades for blue eyes include MAC's Russian Red or Ruby Woo ($15 each, maccosmetics.com) and Illamasqua's Lipstick in Box ($26.19, illamasqua.com).
Read more: The Beauty Gurus of Pixiwoo Share Their Makeup Must-Haves
Eye Shadows That Bring Out Your Eyes
NYFW Trend Spotting: Show Us Those 'Ol Blue Eyes