I sat myself down on my sofa at 6pm sharp last Sunday night to watch all of the Academy Awards 2010 drama from soup to nuts. I started with Ryan Seacrest on the red carpet for E! and continued to watch all the way through the last minutes of the ABC presentation. I love an awards show and clearly this is THE ONE!
First of all hats of to Jay Manuel! I am so inspired by the way he has taken his career. Starting off as a freelance makeup artist in NYC and evolving into an expert on fashion and style. That is fantastic!!!! AND–I think it's time for him to change his hair color. I used to think it was a cool look but now I think it's a little old. My advice, if you're interested Mr. Manuel, is to mix it up a little bit–if you're not interested, it's ok–you are adorable either way.
Ok let's talk about the ladies… I am going to point out what I thought were some of the prettiest hair colors. There were three reds that really stood out to me. My high school "it" girl Molly Ringwald did not fail and pulled out exactly what I expected (less than love that haircut though). I thought Sandy Powell (winner for best costume design) had a gorgeous red and the cut and color really complemented one another in a super chic way. I can not make a comment about red heads and not mention Julianne Moore if she is in the room – amazing, gorgeous and believable.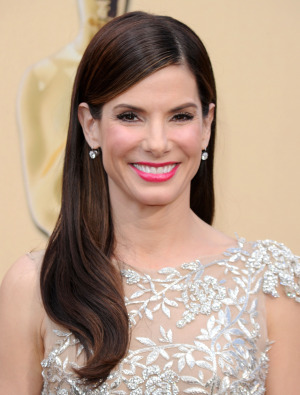 Credit: Jason Merritt /Getty Images
Brunettes? Hands down the woman of the evening herself, Sandra Bullock. Her single process brunette with tone-on-tone variation was gorgeous. I loved her strong side part and sleek style – perfect with the dress. Second place goes to Demi Moore. I almost don't want to acknowledge her as she clearly has a pact with the devil looking so good. Her monochromatic single process is the exception to the rule that you should have some variation for softness and a youthful look. Amazing.
I have to be honest. I am so disappointed with the blonde hairstyles this year. I thought Elizabeth Banks' color looked like chicken fat (sorry girl). I also thought most of the blonde women looked like they needed their color done! I am going to say that, although I wasn't gasping for air because the color was spectacular, Cameron Diaz (who FINALLY looked chic and together vs. just getting out of bed) and an all time fav of mine, Kate Winslet, take the cake for blondes.
Did you have a fave color from the show? LMK.