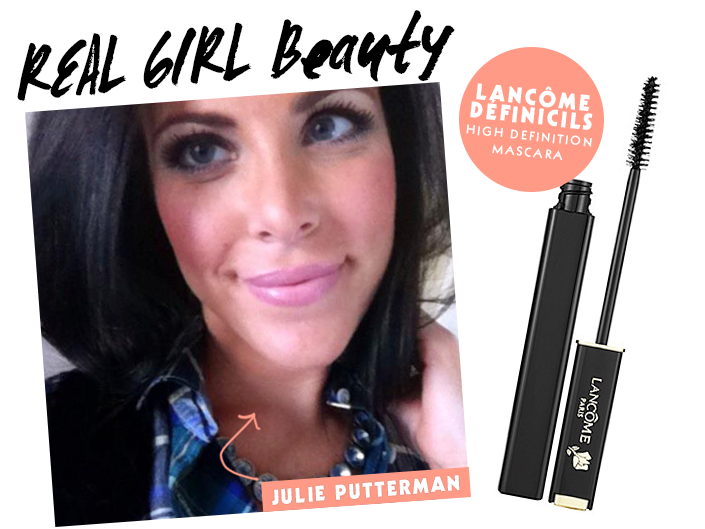 Going backstage and learning tips and tricks from the professionals may be an adventure, but sometimes, the best tricks come from real girls. In "Beauty and the Real Girl," we learn the best beauty tips, tricks and secrets from girls just like us.
Truth be told, if we could only have three beauty products for the rest of our lives, mascara would be on the list. It opens up our eyes, makes us look less tired and really pulls a look together. The only issue is that as wonderful as mascara is, you need to know how to use it so that you can get that false lash look, minus the falsies.
Julie Putterman, Senior Account Manager at StyleCaster, has some of the most enviable eyelashes we've ever come across, and we had to ask how she gets them so perfect every day. Below, Julie explains her entire process for getting her gorgeous lashes.
MORE: 8 Tricks for Perfect Eyelashes
"The one beauty product I cannot live without is Lancome Definicils High Definition Mascara. I'm on the 10 minute makeup plan in the morning, and highlighting your eyes is the best accessory to any look. I call my routine 'how to get fake eyelashes in 5 minutes — with the perfect mascara of course.'
1. Always start off with using an eyelash curler to curl your lashes. This technique I use is key for a great foundation. I start at the base of my eyelashes and press and then move up to the middle and end pressing a total of 3 times on the clamp. This makes your eyes pop before applying mascara.
2. I apply one coat of mascara to the bottom lashes first and then another without allowing to dry in between  coats. This sets the stage for a doll like look, plus your bottom lashes are then dry so you do not have to worry about smearing mascara when you start on the top lashes.
3. Next, I apply mascara to the top lashes, starting at the base and swiveling the brush up to the top. I then take the brush to the middle of my lashes and swivel to the top lashes.  Finally, I use one last coat at the tips of the eyes elongating the lashes. The best thing about the Lancome brush is that it coats lashes separately appearing as though each lash is individually fake. Using this mascara, I never have to reapply throughout the day.
4. Wait for everyone to ask you, 'Are your eyelashes real?'"
Image Courtesy of Julie Putterman
Where to Buy: Lancome Défincils High Definition Mascara, $27, Sephora.com