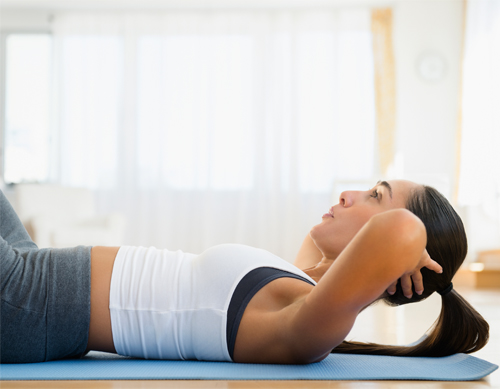 Studios tailored to one type of fitness class are booming. But for those of us who don't know which workout we want to dive into — whether it's calming yoga or heart-pumping kickboxing — it's smart to test the waters before committing to a class. And what better way to get a taste of different fitness styles than in the privacy of your living room? Check out our favorite DVDs for beginners so you can fight the right fit for you.
Yoga
Chrissy Carter is an amazing instructor, and her Beginning Yoga with Chrissy Carter ($14.99, chrissycarter.com) is on par with her NYC classes. Unlike other beginner DVDs that just provide instruction on breathing and common poses, Carter also includes insight into the lifestyle of yoga and how each pose is intregal to the practice.
Pilates
If there's one woman you should learn the art of Pilates from, it's Kristin McGee. As a certified Pilates and yoga instructor and certified personal trainer, she has worked closely with Tina Fey, Bethenny Frankel and LeAnn Rimes, among others. With step-by-step instructions for each pose in her Pilates For Beginners with Kristin McGee ($14.99, kristinmcgee.com), you'll learn the proper technique to feel the burn.
Fast-Paced Cardio
Sticking to a strict schedule like Insanity doesn't work for the average person. Sara Haley's Sweat Unlimited ($24.99, sarahaley.com) is the perfect option for quick results-driven workouts. Included are four workouts — one 5-minute, 15-minute, 30-minute and 45-minute —  so you can fit a workout in no matter how busy your day is. With a mix of boxing drills, core exercises and dance club-inspired moves, you get a bit of everything without drying every cardio tape out there.
Barre
Get the benefits of ballet, yoga and Pilates with a barre routine. Exhale: Core Fusion Barre Basics for Beginners ($14, amazon.com ) brings these balancing and strengthening classes to your living room with their 10-minute workouts and tutorials that take you through the moves step-by-step. No ballet background required. Ready to really get into it? Check out Barre3's 28 to Great Guide that includes a core ball and 5 DVD set ($95, shop.barre3.com). Essentially, it's a one-stop-shop for barre brilliance.
Cardio Kickboxing
There's a reason P!nk and Alicia Keys looked so amazing post-pregnancy — celeb trainer Jeanette Jenkins. The trainer released Jeanette Jenkins: Cardio Kickboxing ($20, thehollywoodtrainer.com) earlier this year and it's a perfect intro for beginners. Each 15-minute session starts with simple moves, like jabs and uppercuts, and then gradually builds up into more complex routines, providing instruction throughout.
Read more: Which Type of Yoga is Best for You?