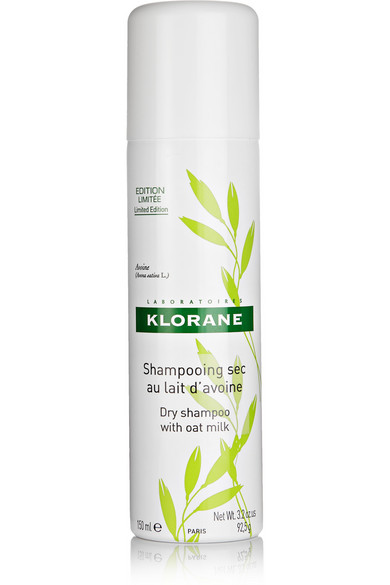 We are all busy. Whether it's a busy day of running around, an unplanned workout or rushing through our morning without time to shower, our dirty hair often needs a lifesaver. That's where dry shampoo comes in. But it comes in so many brands and forms. Not all dry shampoos are created equal. There's sprays and powders, tints and originals. There's those that boost volume, and those that have a scent. Some are a splurge, others a bargain. Some make our hair gorgeous and our lives simpler, others are just a waste of money.
There's no right or wrong kind of dry shampoo. Some prefer the aerosol spray, others like the control aspect of the powder. If you use the powder, direct it right onto your scalp and rub it in.  If you use aerosol, hold around six inches from your scalp in order to evenly distribute the product. Once you find the right one for you, you may want to hoard an arsenal.
Klorane Dry Shampoo ($19.50, net-a-porter.com)
Much like oats are a great way to put grains in our diet, they seem to work well for the nutrition of our hair. This spray contains oat milk, known to be scalp-nourishing and fortifying to our hair. 

Batiste Dry Shampoo ($8, ulta.com)
We love that it comes in fun scents, but also that it keeps hair looking and feeling clean—but not heavy or tacky.
DryBar Detox ($20, sephora.com)
Not only is it our favorite product when getting a blowout, but it's a miracle worker when it comes to maintaining our style.

Herbal Essences Naked Dry Shampoo ($5.99, soap.com)
Using natural tapioca to absorb our hair oils is kind of genius. One of latest favorite dry shampoos is also one of the most wallet-friendly—and smells delicious!

Oscar Blandi Pronto Dry Shampoo ($21, sephora.com)
This classic is a favorite of ours, and for good reason. Another proponent of using rice and oats to fortify hair, this also includes a lemon verbana essence. It'll leave your hair smelling like you just left the salon.

 Read more: You're Doing it Wrong: Dry Shampoo