Scroll To See More Images
If you've whipped out your darkest red lip color and it still isn't scratching that vampy itch, it's time to move on to a rich burgundy matte lipstick.
While we're not trying to throw shade at the classic red lip, some days you just feel a bit darker, more mysterious, a bit more adventurous than what your good ol' red lip can do. A burgundy lipstick is like the evil twin to the red lipstick. It's just as bold as a red lip but sends a rather different message — one that suggests a bit of mystery and the type of confidence that doesn't beg for approval. We like to wear our burgundy lipstick on those days when our shades are on, hair is looking perfectly undone, and we'd rather our lips do the talking. Here's a handful of our favorite burgundy shades.
One underrated drugstore brand, Black Radiance, has a great offering of highly pigmented lip colors, including Eldorado Red, which is the perfect creamy deep burgundy shade. It initially applies like a deep stain and you can build from there.
(Where to Buy: Black Radiance Lipstick in Eldorado Red, $1.49 at Riteaid.com)
MAC has many a cult lipstick shade, Diva, being on the cusp (close runner-up to Russian Red or Ruby Woo) of cult but perhaps a bit too deep for mass appeal. MAC's classic matte formula looks good with a deeper red anyhow.
(Where to Buy: MAC Lipstick in Diva, $16 at MACcosmetics.com)
Any true goth remembers the Manic Panic days of multi-colored hair and paled-out complexions. Lo and behold, they offer some really great makeup, too—especially lipsticks which come in a variety of every outlandish shade you can think of. Made to wear true and bright, the formula delivers opaque color and sticks to your lips. Black Rose is marked as a "Goth Fave" on their site, so you can throw all the shade you want.
(Where to Buy: Manic Panic Lethal Lipstick in Black Rose, $9.65 at Amazon )
We were really impressed with Maybelline's Matte Lipstick formulas—such great vibrant color that felt lightweight and velvety on the lips. Divine Wine was definitely a winner with us, since it delivers prestige color on a drugstore budget.
(Where to Buy: Maybelline Color Sensational Creamy Matte Lipstick in Divine Wine, $5.59 at Target)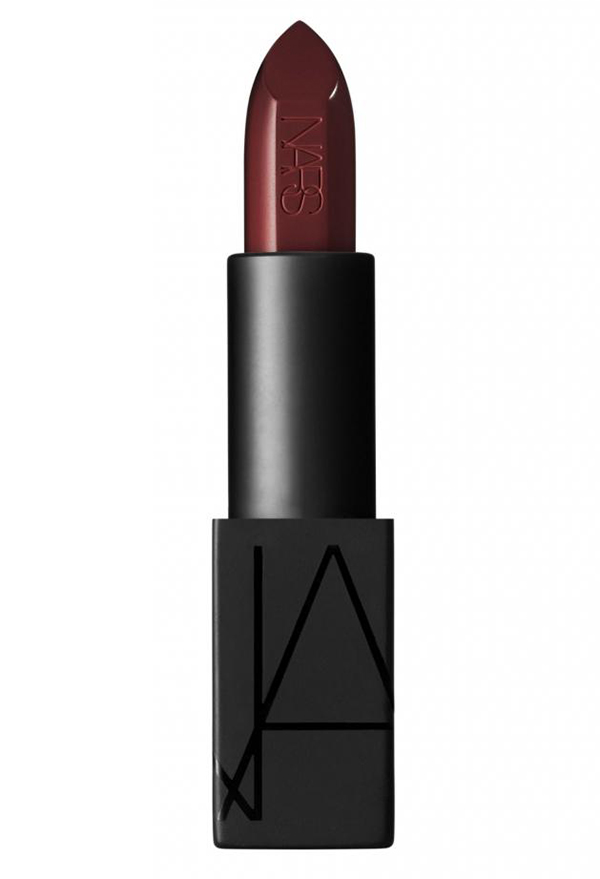 NARS Audacious lipsticks are something of a gem among the lipstick-obsessed. If you should get any color though, let it be this delightfully dark Bette. From first swipe, you'll notice how well the color sticks to your lips and the creamy matte formula feels like air.
(Where to Buy: NARS Audacious Lipstick in Bette, $32 at Sephora)
NYX knows what you want when it comes to lip color, it seems. They offer endless colors in nearly all finishes. The Simply Vamp collection, small as it is, is your go-to for vampy dark deep lipsticks, and Covet is the stuff of burgundy dreams.
(Where to Buy: NYX Simply Vamp Lip Cream in Covet, $6.50 at NYXcosmetics.com)
Alchemy does only one thing—lipstick— and they do it well. Think creamy mattes that wear so comfortably and feel like butter while also looking extra crisp and even. Their burgundy shade, 11221, is named after one Bushwick neighborhood where they're based.
(Where to Buy: Alchemy Lipstick in 11221, $18 at alchemycosmeticsbk.com)