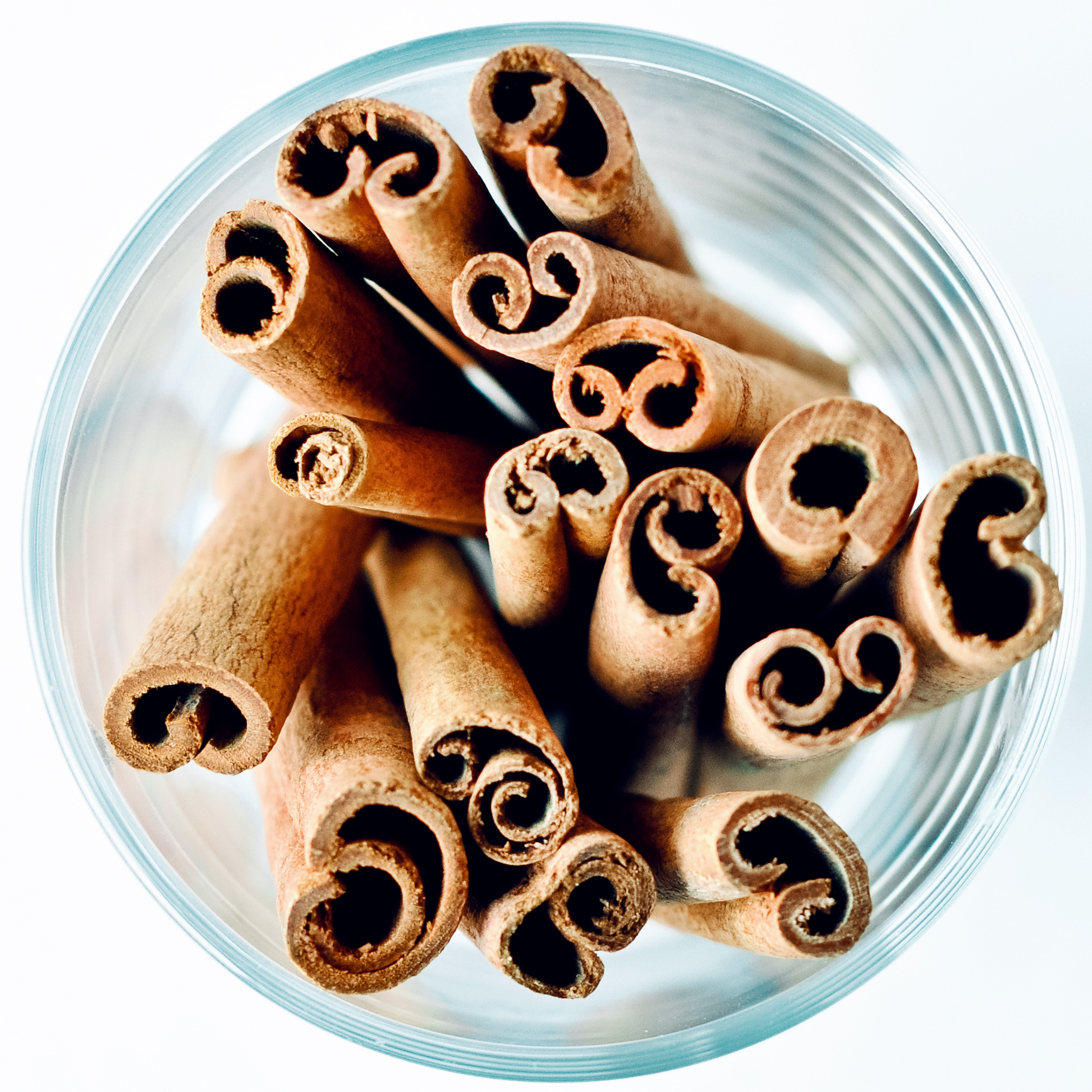 The sweet, spicy scent of cinnamon is one of our favorite winter fragrances, but it's more than just a scent or a topping for a latte. Cinnamon is also a powerful beauty ingredient with plenty of benefits for your skin. Below, we explain the beauty benefits of cinnamon, and this is just scratching the surface!
Acne: Cinnamon, surprisingly, is great for fighting acne. It can be found in a lot of face masks that help rid the skin of breakouts. "It works to stop the acne bacteria and essentially clear skin," says Dr. Marina Peredo, a nationally recognized board certified dermatologist.
"Cinnamon is anti-microbial and therefore can ward off acne," furthers Gary Goldfaden, M.D., a dermatologist and creator of GOLDFADEN MD products. DYI face masques and scrubs with ground cinnamon can help keep bacteria away.
MORE: 8 Tips for an All Natural Skin Care Routine
Nicks and scrapes: Cinnamon may also come in handy of you cut yourself and don't have an antiseptic, but be careful with the amount you use as it can sting.
Lip plumper: "On the surface of the skin, it's great to blend with a touch of organic olive oil and a tiny dash of cinnamon for a homemade lip plumper," says Kim Laudati of Kim Laudati Skin Care. Interestingly, many people use this same mix and method to temporarily plump skin where fine lines have appeared.
Slow the signs of aging: Sun worshippers, take heed: Cinnamon extract can be used to slow the production of advanced glycation end products (AGEs), which cause wrinkles and amplify sun damage.
"Glycation is a process by which sugar molecules bind with proteins in our bodies, causing the protein to become stiff and deformed," explains Kelly LeGendre of TheAntiAgingDiaries.com. "While glycation can occur anywhere in the body and cause all sorts of health problems, when it happens to collagen and elastin in the skin, the result is wrinkling and a loss of radiance. Glycation can also make the skin more susceptible to other types of damage, such as the damage that occurs from UV exposure. Research has shown that extracts of cinnamon can slow this process dramatically!"
Manage your weight: Hard to believe, but it's true. VENeffect Co-founder and Hormonal Wellness expert Dr. Rebecca Booth says that as little as one gram of cinnamon per day has been shown to improve blood sugar control and lower cholesterol. She suggests you indulge in dark chocolate and a "daily dash" of cinnamon, which helps your body metabolize carbohydrates.
MORE: 7 Herbal Remedies for Clear Skin
Improve your health: Cinnamon is great at helping the body rid itself of toxins and also boost the immune system, says Laudati. Cinnamon is suggested to lower blood pressure and blood sugar. Add it to your tea or coffee and use it to spice up cooking. Cinnamon is also a natural antimicrobial, which means you can sprinkle it on minor scrapes and cuts to speed up healing. Just clean the wound first and sprinkle a small amount on top.
Bad breath: We know cinnamon is delicious. It's also potent. If your breath feels a tad gnarly, just chew on a few cinnamon sticks — it's the best tasting medicine ever!
Stimulate hair growth: Just as cinnamon can plump our lips and help with those fine lines, it can also stimulate our scalp! Try giving your hair a cinnamon masque every week, mixing the cinnamon with honey and olive or coconut oil. Do not worry if your scalp tingles a bit — that shows it's working!
Image via Lina Aidukaite/Getty Images