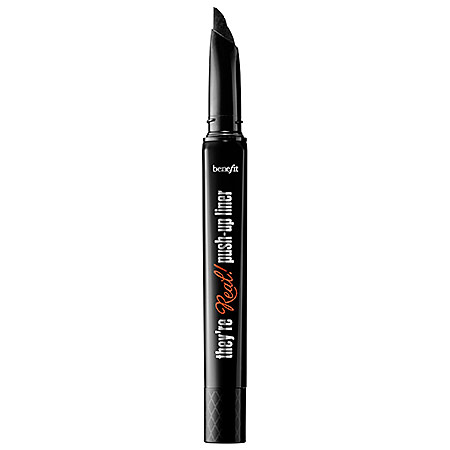 You know how you see the "bestsellers" and "most popular" products in beauty stores, so you of course scoop them up, but then you realize you have no idea how to work them? In "How It Works," we're going to explain to you exactly how to get the best use out of your products, whether they are cult classics or hot off the conveyer belt must-haves. We'll teach you the basics, as well as a few industry expert tips to make sure you're getting the most out of everything you buy. 
Alright eyeliner pros, are you ready for the newest innovation from Benefit? The They're Real! Push-Up Liner is the talk of every beauty blog and on the lips of every makeup lover who can't wait to get her hands on it. For those that relish with ease in using a pen liner but wish for the intense pigmentation of a gel, this product delivers the best of both worlds. With an applicator so unique and the promise of all day staying power, this innovative gel pen liner is changing the makeup game and is sure to make a lasting impression.
MORE: Beauty 101: Your Ultimate Eyeliner Cheat Sheet
Product Perks:
This eyeliner's unique tip applicator is custom-angled to draw an easy line.
It's waterproof and smudge-proof.
It delivers matte, ultra-black pigmentation.
Its lash-hugging application makes eyes look instantly larger.
How It Works:
Twist the base one time to push up the product into the tip of the pen. Rather than gliding the liner across your lid like a regular pen liner, push the tip onto the base of lashes and slowly move it from inner to outer corners with that same motion. If too much product comes up, wipe off the excess and fix any smears or mistakes with makeup remover, or the specially formulated They're Real! Remover. 
Where to buy: Benefit Cosmetics They're Real! Push-Up Liner, $24; sephora.com