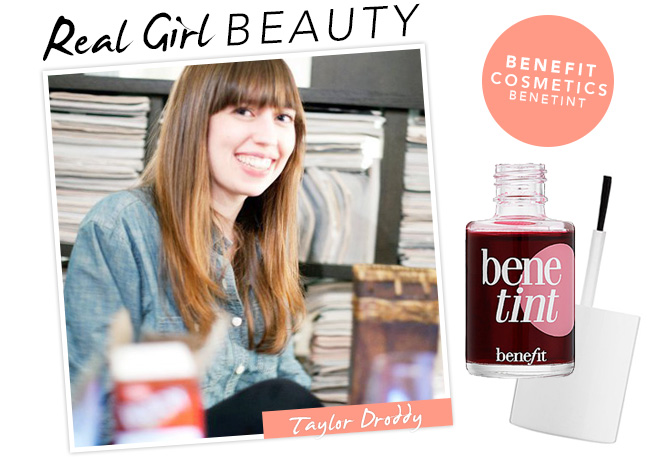 Finding a great blush can be no easy task. Many of us have a fear of looking like a clown, whether it's choosing the wrong shade or applying it incorrectly. This is why we typically look to product reviews, or to some great word-of-mouth from friends for recommendations. Taylor Droddy, a PR Account Executive in NYC has been a longtime fan of Benefit Cosmetics Benetint for a natural-looking flush. While she tends to like a beauty routine with little to no effort, she loves a great blush that instantly livens up her look, and this stain actually stays put — even if she's working long hours.
"I'm super pale, so blush is pretty much essential if I want to avoid looking pasty. This cheek stain from Benefit is incredibly natural-looking and lasts all day, unlike most powder blushes I've tried. I just use a dot of the tint and quickly blend it onto the apples of my cheeks."
MORE: Beauty and the Real Girl: The Ultimate Lip Stain
The trick to this product is obviously the "quick blend" since it's a stain, but like Taylor said above although it looks dark in the bottle, all you need is a small dot and some fast blending and you'll get a natural flush on your cheeks. Since this winter season seems to be never-ending for most of us, this product is a current must-have.
Where to buy: Benefit Cosmetics Benetint, $30, sephora.com
Image Courtesy of Taylor Droddy