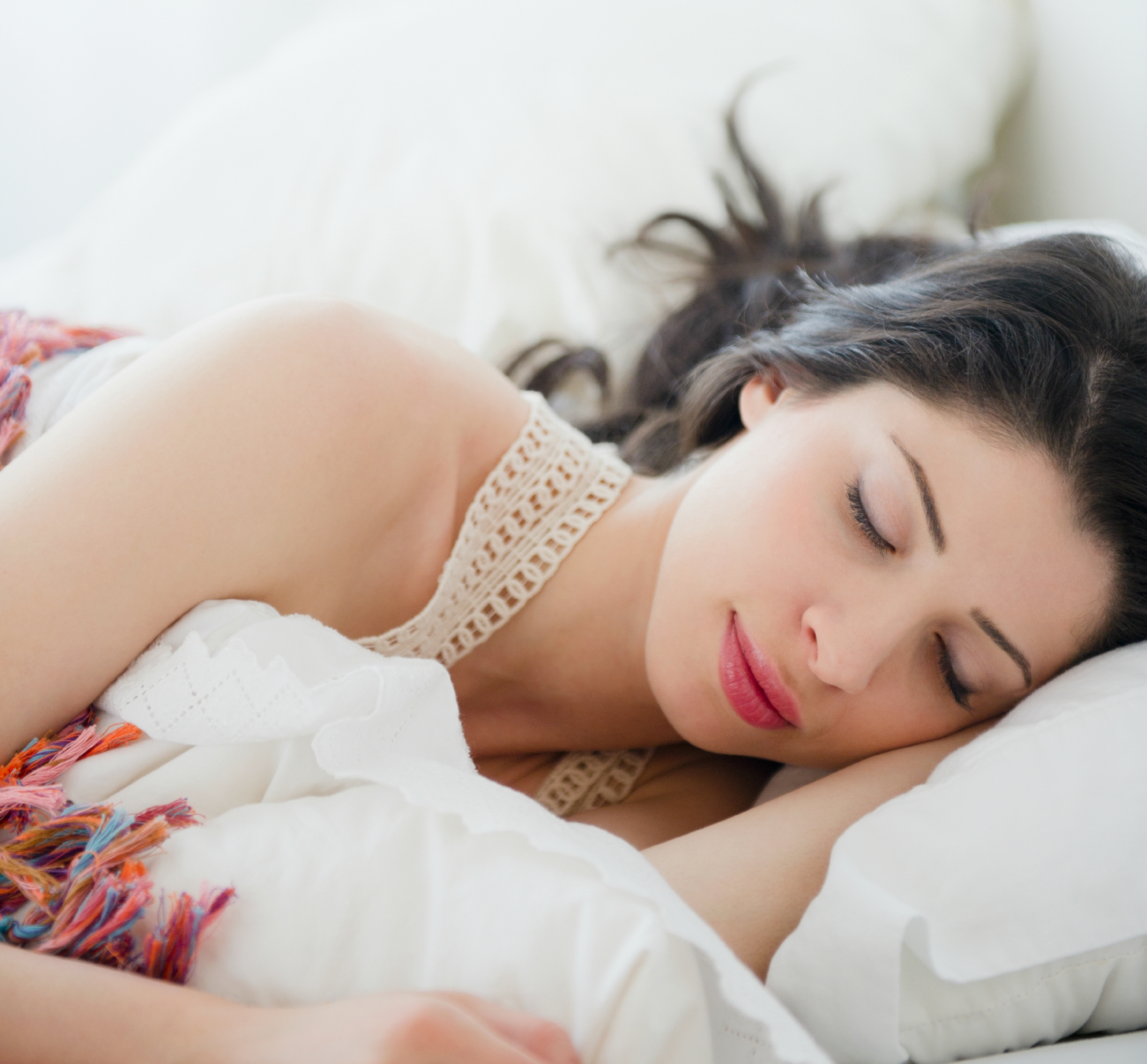 If you're a beauty fanatic, you probably know something that many other people don't understand: it's not just about looking pretty. Sometimes the best beauty products are the ones that manage to make you feel better on the inside. After a long day of working hard, it's important to take some time for yourself to destress and relax. Sure, sometimes a glass of wine and some Netflix binging does the trick just fine—but some nights you need to take it to the next level. Here are seven relaxing beauty rituals that you should definitely implement in your nighttime routine when next you feel the need to treat yo' self.
1. Aromatherapy.
First and foremost, it's time to set the mood with some soft lighting and soothing scents. Diptyque candles ($60, diptique.com) are the best you can buy: they smell amazing and last for ages. If you're not willing to spend that much on a candle, then a great budget option is the Essential Elements candles ($10, cvs.com). The Lavender & Cedarwood candle smells heavenly.
If you can't or don't want to burn candles, don't forego the aromatherapy portion of the evening entirely! It's essential. Diffusers, like this incredibly luxe one from Jo Malone ($85, jomalone.com), help relieve stress with soothing or invigorating fragrances that require zero flames. If you want your scent to stay  a bit closer to home, try an essential oil roll-on—like this calming lavender one ($8.49, drugstore.com). Inhale deeply, close your eyes and feel tension start to melt away.
2. Make your bath luxurious.
Between bath bombs, essential oils, bubbles, and epsom salts, there are plenty of ways to make your bath harder to get out of (and we don't mean "slippery," although watch out for that too). You can't go wrong with Lush bath bombs, which will make your bath fizzy and soften your skin, so be sure to stock up on those; we like Big Blue Bath Bomb ($6.40, lushusa.com) and Sex Bomb ($6.65, lushausa.com) especially.
It's also important to always keep a bag of epsom salts on hand for soothing sore muscles, especially a classic like Dr. Teals Lavender Epsom Salt Sleep ($5, ulta.com). It's totally inexpensive, yet so relaxing.
You could also add a few bath oils for extra silky hydration and a lovely scent; we LOVE the bath oils from Jo Malone. Try the Amber & Lavender bath oil ($65, jomalone.com)—it smells sexy and sophisticated.
3. Double up on masks.
While you're kicking back in the tub, be sure to multi-task (in the laziest way possible of course) with some beneficial masks. Put one on your face and one in your hair, so both your skin and your hair will be improved by bedtime with you barely having to do anything. Glossier masks are great because they have one for both dry and oily, acne-prone skin. Try the Mega Greens Galaxy Pack ($22, glossier.com) if your oily skin is need of a deep detox, and the Moisturizing Moon Mask ($22, glossier.com) if your dry skin needs some serious hydration. As for your hair, slather it with L'Oreal Oleo Therapy Deep Recovery Mask ($7.64, ulta.com). It's super thick and hydrating to give you soft, silky hair—plus it smells amazing.
4. Incorporate lotions and oils.
After your bath, be sure to moisturize your skin with a luxurious lotion or oil. L'Occitane Almond Smoothing And Beautifying Supple Skin Oil ($44, sephora.com) has three essential oils to make your skin soft and smooth, plus the light scent is perfect for summer. You might also want to consider purchasing your favorite fragrance in the form of a lotion or body oil. Elizabeth and James Nirvana White Perfume Oil ($35, sephora.com) is perfect for summer; for fall and winter, try Black Orchid Hydration Emulsion ($55, sephora.com) for a sexy, spicy scent that's also rich in hydration.
5. Do some light yoga.
Regular exercise is an important part of anyone's beauty routine, since it keeps you looking and feeling great. Yoga is particularly good to include in your bedtime routine, since it will relax you instead of pumping you up. Try Tara Stiles' "Yoga For Bedtime" which you can even do from your bed.
6. Invest in a silk pillowcase.
Spending $20 on a silk pillowcase, like these amazing ones from SpaSilk ($20, store.spasilk.com) might seem like an indulgence, but it's worth it. You'll notice the payoff immediately in the form of softer hair that's free of tangles and bedhead in the morning, as well as softer skin that no longer has redness or pillow lines when you wake up. You spend around 7 or 8 hours every night (hopefully) with your skin and hair pressing against your pillowcase, so make it count. It also doesn't hurt that there's nothing like sinking into a soft, cool silk pillowcase at night.
7. Silky underwear.
Yes, we do consider this a beauty product—is there anything else that makes you feel quite as good as pretty, comfy underwear? We know that feeling is essential to our beauty game. Lush's Silky Underwear Dusting Powder (7.95, lushusa.com) is great for preventing chafing, especially in the summertime, but it has other uses as well. You can sprinkle this powder onto your sheets to freshen them up and make your bed smell amazing: jasmine and vetivert combine to make a sexy, intoxicating scent that will make you never want to get out of bed.
More from Daily Makeover: Morning Beauty Habits to Cultivate Now.