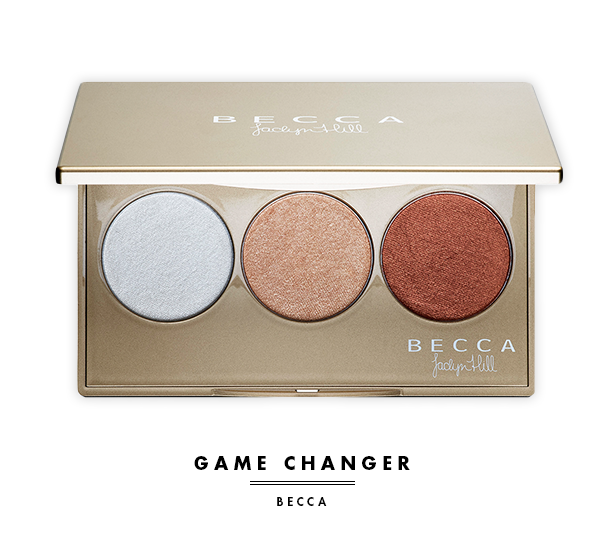 It would be an understatement to say that I love highlighter. No matte complexions for me—give me shimmery, radiant skin or give me death! And while I have my favorite highlighters, I'm always on the lookout for the next product that will make my complexion shine like the top of the Chrysler building.
And I've found it. Allow me to introduce you to BECCA Shimmering Skin Perfector Champagne Glow Palette ($32, Sephora). I've been a fan of BECCA for years now—their shimmer products are supreme in terms of the range of colors and the lit-from-within finish they give my skin—but they've truly outdone themselves with this versatile palette.
First of all, let's discuss packaging: Champagne Glow comes in a decently weighted, gold plastic case with a large mirror in the back. This means that it's easy to transport and sturdy, so it won't break if you accidentally knock it off your bathroom sink, nor will it end up covered in mysterious uncleanable gunk the way that a cardboard case will. Each pan of product is about the size of a silver dollar, which means they're large enough for even the fluffiest brushes to fit in without issue.
And now let's discuss those products, because they're amazing. The three colors in the palette are Pearl (luminescent linen white), Champagne Pop (the wildly successful Jacklyn Hill collaboration, which is a gorgeous golden-peach shade) and Blushed Copper (a rose gold shade with hints of new penny). Each are shimmery rather than shiny, with a soft, velvety finish that glides over pores and imperfections instead of sinking into and magnifying them—something really rare in a powder highlighter. They're incredibly blendable and can be used damp or dry on cheeks, eyes and lips.
The thing that sets this palette apart for me, though, is how amazing each of the colors are. Pearl creates a subtle incandescence that looks as wonderful on bare skin as it does layered overtop of blush or bronzer. Blushed Copper, which works beautifully as a highlighter on deep skin tones—well done, BECCA—is my current favorite eyeshadow, giving me a flattering wash of lid color that makes me think of Renaissance paintings. And I join the rest of the world in being totally obsessed with Champagne Pop. Worn along my cheekbones, it gives me the most amazing peachy glow. I'm also really impressed at the range of skin tones it works on—I've tested it on practically every friend that I have, and it looks spectacular on all of us.
And the best part? These shades are SO concentrated that you only need a tiny amount for major shimmer results. So even though $32 isn't exactly cheap, you know your money is going to go a long way.
In short, if you want to glow like a radiant angel (or you're just looking for a foolproof highlighting kit), Champagne Glow is for you. It's a Sephora exclusive and it's been selling like crazy, so make sure you pick one up ASAP—and thank me later.
More from Daily Makeover: The Best Brow Pencil in the World