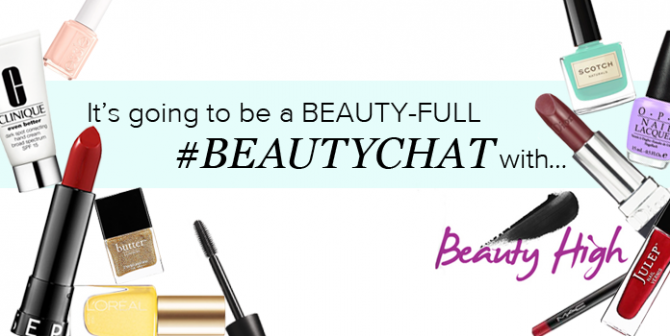 Every Friday afternoon we turn to Twitter to join a few of our nearest and dearest for a weekly #beautychat from 2PM to 3PM. We've found that while we here at Beauty High have an unhealthy obsession with all things beauty, an awful lot of you have the exact same obsession. We spend the hour chatting about everything from the latest trends to how to make our hair as healthy as it can be.
This week we were joined by Lindsey Calla, AKA @SaucyGlossie, who chatted with us about her favorite products, beauty blunders of the past, and favorite trends for the season. If you want to hear more from Lindsey, she'll be at StyleCaster's State of Style Summit at 92Y Tribeca on 10/11 (buy tickets here). Check out some of the best tips from this week's chat and join us next Friday at 2PM for #BeautyChat! 
1. ‪@SaucyGlossie‬: #beautychat darker lipstick means toning down everything else. Don't pile it all on.
‪2. @TheAugustaWind‬: "@spencerhcain: @BeautyHigh I'm sick of spray tanning but I need a fake glow during the winter. Good suggestions? #BeautyChat" St. Tropez!
3. @Porphyrogene‬: I try to go against what I'm wearing. If I have on pink, I go with taupe shadow and coral lips. @TheAugustaWind @SaucyGlossie #beautychat
4. ‪@SearsFashion1st‬: @clishaye make sure not to wash everyday or else your hair will get and look dried out! #beautychat
5. @SaucyGlossie‬: "@SearsFashion1st: What beauty product is everyone excited to use this weekend? #beautychat"/ the Nyx Curve b/c it's mistake proof
6. @SaucyGlossie‬: @Porphyrogene @BeautyHigh I also carry the roller perfumes.. Stella McCartney and Chloe are faves #beautychat
7. @Tania_Jen‬: @Melito820 @BeautyHigh Loving the wine/plum lipstick and polish colors for the fall #beautychat
8. @SaucyGlossie‬: @TheAugustaWind biggest beauty blunder: having too light of a concealer. im also bad w dark lipstick #beautychat
9. @Porphyrogene: Be VERY careful about preservatives & allergies with BBees and Kissmyface. Both are allergenic. #beautychat
10. @_Momomango_‬: @Melito820 @BeautyHigh #beautychat Tony Moly Backstage Gel Liner is waterproof and one of the bestsellers at Momomango