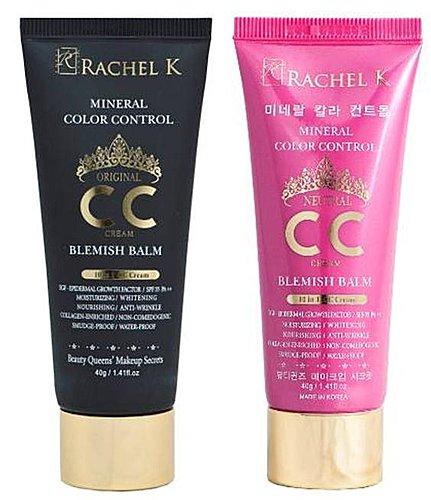 There is a beauty revolution on the horizon and, as usual, it comes from those genius Asian markets. CC Cream (I know, I know, they're just working their way down the alphabet) is the new miracle beauty product. We got the details from Rachel Kum Co-founder of Rachel K CC Cream, on what exactly this all-in-one beauty product does and what makes it so different from our beloved BB cream.
What exactly IS CC cream?
CC cream stands for Color Control and is essentially a much-improved and refined BB (Beauty Balm or Blemish Balm) cream that will do everything that is expected of a BB cream. BB creams combine skin care benefits while providing coverage and CC Cream is formulated to retain those benefits but with added nourishing ingredients for superior skincare. Furthermore, Mineral CC cream has been designed with special attention to providing much more effective skin coverage (you can even use it to substitute foundation) and its lighter texture gives a smoother, radiant yet non-oily/(matte) finish.
How is it different from BB Cream?
The most important and intriguing difference in a CC cream is the delivery of the cosmetic properties. CC cream has been developed to retain all the skincare benefits of a BB cream as well as more effective ingredients and skin coverage. This is where the "color control" comes in.
Unlike BB cream, CC cream rocks a heavier, more cosmetic-like coverage that actually has a lighter texture. This results in a formula that is extremely easy to blend, yet offers a smooth and even-toned base that looks like a second (flawless) skin.
 What are its main benefits?
The Rachel K CC Cream has 10 major benefits.
These benefits include but are not limited to brightening, anti-aging, moisturizing, and higher SPF in a lighter texture for long-lasting and superior natural coverage. The CC cream is non-comedogenic, especially good for sensitive skin that feels stressed, unsettled and easily irritated due to external aggressors. It is also waterproof and collagen enriched.
Why should you use this over other skincare products?
The Rachel K CC Cream has exclusive ingredients not found in other BB Creams and has been FDA approved.
Testament to its superior quality are rave reviews from users.
The Rachel K CC Cream is currently retailing in Hong Kong, Singapore and soon in Malaysia. We will be expanding into the US market soon.