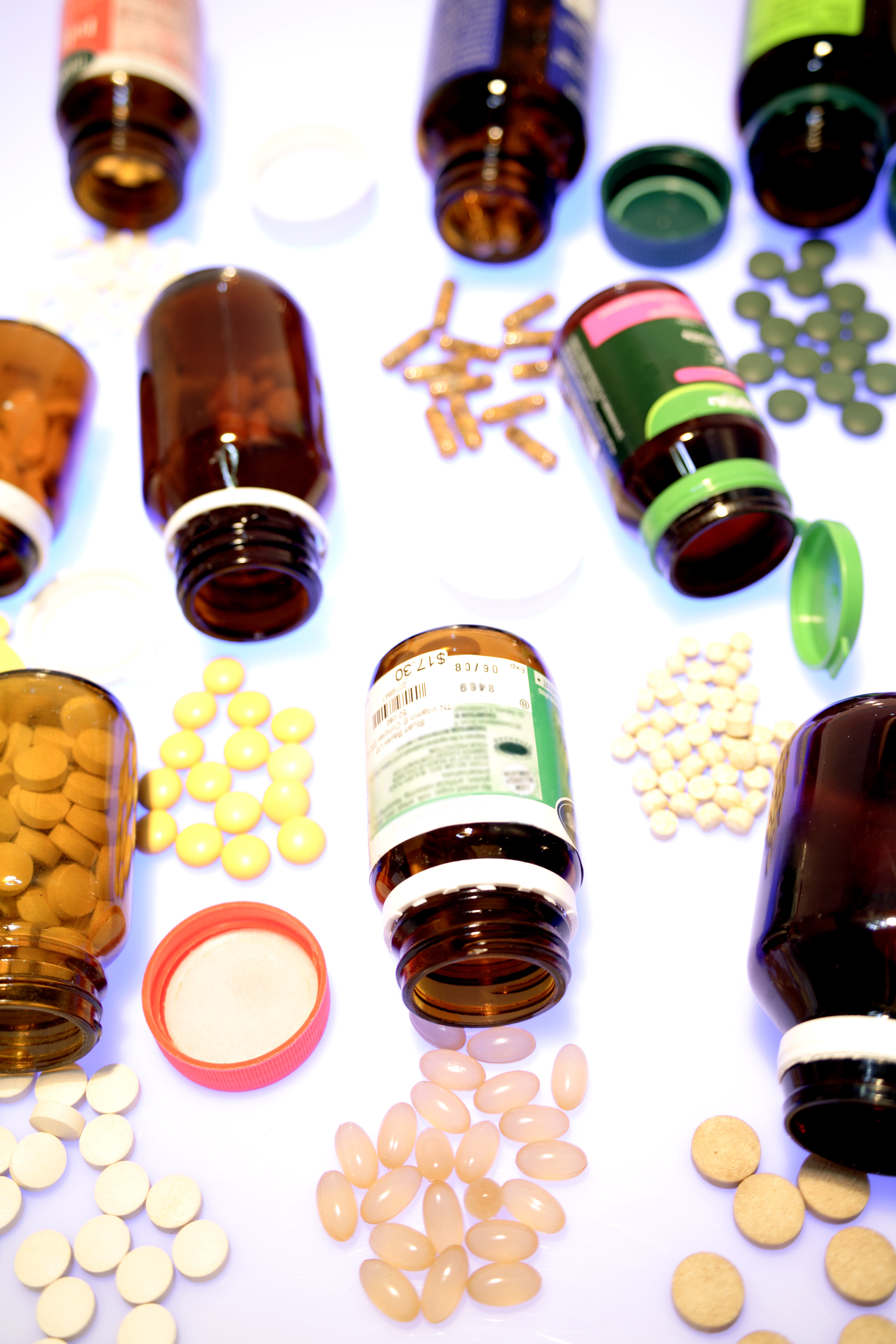 Considering we take vitamins for our overall health, our hair and our nails, it makes perfect sense that we'd take them to make our skin better, too. While a great facial cleanser and moisturizer are crucial for maintaining skin's appearance, a lot of how our skin looks starts with what we put into our bodies, not just on top of our skin. For a breakdown of which vitamins work the best for taking care of any skin issue you may have — redness, wrinkles, acne and the like — we've put together the beauty vitamin cocktail for getting great skin. Whether you're going with supplements or you'd rather up your dietary intake of certain vitamins, here's what you need.
Vitamin A: If you've got dark spots that need repairing, vitamin A is your go-to. The key derivatives in vitamin A are known as retinoids, which are known to boost collagen, reduce fine lines and speed cell turnover for smoother, more even toned skin. You can use a retinoid cream, take vitamin A tablets or boost your intake of vitamin A-rich foods, like sweet potatoes, dark leafy greens and cantaloupe to start reaping the benefits.
MORE: 5 Supplements for Hair, Skin, Nails and More
Vitamin B3: This vitamin helps the enzymes in your body to properly function, and it's great for skin because it's been shown to reduce redness, boost hydration and increase your skin's production of ceramides and fatty acids. Besides this, it's also been shown to help clear up acne. If you want to up your dietary intake of vitamin B3, go for foods like chicken, tuna and mushrooms.
Vitamin C: Besides just playing a key role in the anti-aging process for skin, reducing wrinkles and an aged appearance, vitamin C also protects your skin against toxins and free radicals. Plus, it helps to reduce inflammation. For foods that are rich in vitamin C, look to red peppers, oranges, grapefruit and strawberries.
Vitamin E: An antioxidant that repairs and protects your skin, vitamin E is particularly helpful in reducing any sun damage that's occurred on your face. Your body doesn't produce vitamin E on its own, so taking a supplement and adding it to your diet is key. Some foods with a high vitamin E content are tofu, spinach, nuts and avocados.
MORE: What You Should Know About Nutricosmetics
Zinc: Zinc works to repair damaged skin tissue, and also helps to reduce acne flare ups by alleviating inflammation and scarring and stabilizing the amount of oil production happening in your skin naturally. Experts say that some acne is caused because of a lack of zinc in your diet, so upping your zinc intake may help. Foods with a good content of zinc include seafood, beef, spinach and beans.
Biotin: For glowing skin (and a bonus benefit of better hair and nails), biotin is a vitamin you should consider taking. Helping to repair dry, irritated skin by regulating how your body metabolizes fatty acids, biotin really makes a difference when it comes to getting glowing skin. Besides biotin supplements, look for foods like romaine lettuce, almonds and walnuts.
Image via Les Cunliffe/Getty Images