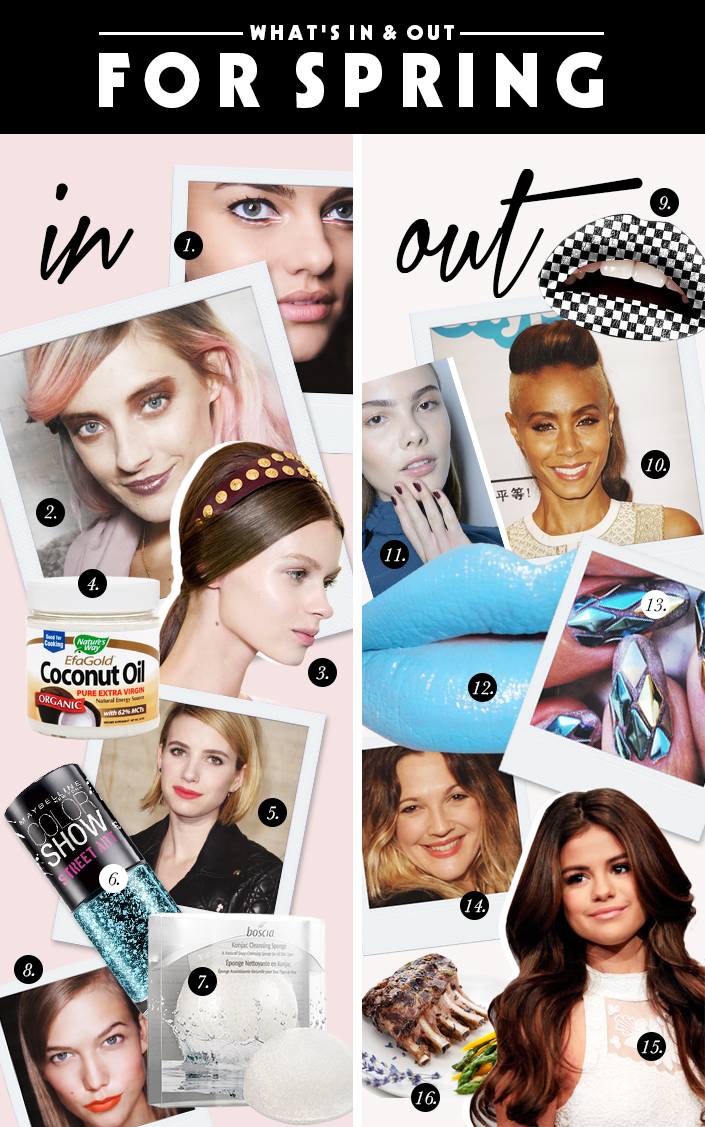 With a new season comes new trends, and while we've got a good handle on the beauty trends happening for spring 2014, there are some trends that are on the outs, too. Whether it's crazy nail art being a thing of the past, or pastel hair dominating everyone's Pinterest boards lately, we've put together a list of what's in and what's out for this season below!
IN
1. Colored Liner: Graphic liner has been popping up for the past few seasons, but spring takes it to a whole new level, swapping dark black and navy liners for bright, colorful options instead. From lining the waterline in teal to creating a cat eye with purple, the brighter, the better.
MORE: New York Fashion Week Fall 2014: Color Theories
2. Pastel Hair: Whether you get the look from hair chalk or you go all the way with Manic Panic hair dye a la model Chloe Nørgaard, pastel hair is absolutely in for spring. We've been spotting it on the runway at shows like Herve Leger and on celebrities like Nicole Richie, and it's clear that pastels are taking over for the warmer weather.
3. Hair Accessories: We love a good braid (who doesn't?) but we're pretty excited that hair accessories are making a comeback with the cool girls. Ponytail cuffs and embellished headbands up the ante on your hair's wow factor, and whether you DIY a hair accessory or splurge on a quality piece, don't leave home without one.
4. Oil Pulling: Unless you've been under a rock for the past few weeks, you know that oil pulling — swishing oil around in your mouth for 20 minutes first thing in the morning — is the new health trend making the rounds. Shailene Woodley has said she uses sesame oil, but we're hearing good things about olive and coconut oil, too. It does wonders for your immune system, and so far, we've heard only positive things about the trend.
MORE: Spring Nails: Everything You Want to Know
5. Short Hair: Karlie Kloss may be single-handedly responsible for starting the short hair resurgence, but however it became a trend, we're happy about it. Long hair will always be beautiful, but for an edgy spring look, make the chop to a short bob or, if you're brave enough, a pixie haircut.
6. Polka Dot Nails: For those of you obsessed with nail art but you have almost no time on your hands for intricate work, the polka dot polishes happening these days are perfect. Whether it's a clear top coat with black and white specs or a colored polish that has polka dots in the mix, they've got the consistency of sequins with the look of nail art that took some time. Quick, easy, and enviable? We're in.
7. Konjac Sponge: Wondering about the latest way to get clear, glowing skin? Take a konjac sponge out for a spin, using it to cleanse and exfoliate your face for skin that's never looked better. It's a naturally pH balanced sponge the size of an egg, and you can use it with or without cleanser, meaning it's incredibly user-friendly and works to balance out your skin.
8. Orange: Bright orange always finds its way to us come spring, but this year it's come full force in the way of lipstick, nail polish, and practically every other outlet for incorporating the color into your beauty routine. At DKNY, models wore the brightest orange lipstick imaginable and looked impossibly chic, so we're taking that as our cue to wear all orange, all the time.
MORE: 8 Short Bob Hairstyles for a Cropped Cut
OUT
9. Lip Tattoos: Why these ever became a trend, we'll never know, but we're pretty glad that the time for lip tattoos (or stickers) has passed. Opt for some fun matte lipstick or stains instead, ladies.
10. The Partial Shave: If any trend could be on our Out List forever, this would be the one. Partially shaving your head, whether it's underneath or on the sides, takes a whole lot of guts, but the process of growing the hair back is just painstaking and awful.
11. Gel Manicures: While they last long and look great for weeks on end, gel manicures are raising a few eyebrows about their potential to damage the nail bed and cause cancer. The risks are low, but not insignificant, so we'll be playing it safe with traditional nail polish formulas.
12. Highlighter Neon: We're just as happy as you are that winter is over and that colors can come out of our closets again, but leave the neon highlighter nail polish and eyeliner behind in favor of pastels.
MORE: What's Next for Nail Art, According to a Top Fashion Week Manicurist
13. Crazy Nail Art: Gone are the days when every girl and her mother took a weekly nail art selfie. Maybe it's the time consumption, maybe it's the lack of staying power, but the runways and our Instagram feeds alike are toning down nail art in favor of simple, understated looks.
14. Extreme Ombre: Once the hottest hair color trend we'd seen in years, the extreme ombre (a severe division from dark to light hair) is on the outs. "Sombre," or subtle ombre, is still happening on red carpets, but it's more of gradual gradation than a bold change.
15. Hair Extensions: Besides being incredibly high maintenance, hair extensions hardly ever look as great as your natural hair does, so we're happy that women on and off the runway and red carpet are embracing their natural, shorter hair.
16. Paleo Diet: A recent study found that the Paleo Diet, which focuses on avoiding refined foods, trans fats, dairy, and sugars, is as bad for your health as smoking. The diet also focuses on eating protein from animal sources, which is what's causing the health concerns. Skip the Paleo in favor of a more well-balanced diet.