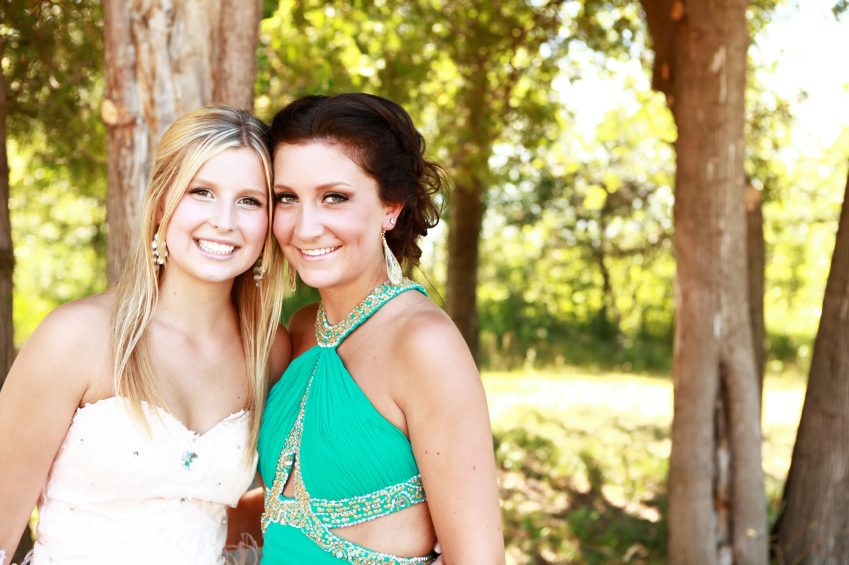 With all the craziness that comes with prom season, it's natural to forget some important details for the long awaited prom night. From appointments to flower deliveries to your aunt taking 40 million pictures of you – we're here to help you not miss a beat while prepping for prom. If you're a procrastination kind of girl (like most of us), it's likely you've overlooked some last minute considerations. Make sure your prom is the best night of your life with these 10 last minute tips for getting ready!
1. Try a sleeping mask the night before: Wake up looking refreshed and glowing with the help of a sleeping facial.  With the amount of makeup that is going to be applied to your face the day of prom, you want to make sure your skin is ready and moisturized properly.  This will also help you look more awake throughout the very long day ahead of you. Dr. Jart+ Water Fuse Water-Max Sleeping Mask is a our top pick for a sleeping mask.
2. Sleep on two pillows: This will elevate your head, draining excess liquids from your body to avoid bloating. Genius!
3. Avoid tea and coffee on the morning of prom: Keep those pearly whites as white as possible for maximum results.  Opt for fruit and ice water in the morning – you'll get energy and it will help to make your teeth super shiny!
4. Wear a button down shirt to hair and makeup appointments: This way, you won't ruin your hair or makeup by pulling your shirt over your head to get changed into your dress.
5. Don't forget to bring your pictures: When getting hair and makeup done, it can be hard to get exactly what you want done across to your stylist, so take plenty of inspiration pictures with you and there won't be miscommunication. Stuck for inspiration? Try our 101 Prom Hairstyles and our Prom Makeup Looks articles for plenty of hair and makeup ideas. 

6. Stick with what you know before the big day: Don't try a billion new face products, makeup, or hair products the night before prom.  This can cause serious problems with allergic reactions or skin breaking out, which is devastating on the morning of prom. Stay away from anything you don't already know and trust to be extra safe. 

7. Limit the amount of SPF: We know this may sound crazy because protection from the sun is so important to skincare, but when it comes to pictures, the SPF in lotion and makeup products may reflect the flash of the camera, creating the effect of a face more pale than the rest of your body. Just this once, dial down the SPF.
8. Primer is your best friend: While you're dancing the night away, you want your makeup to remain on your face. Foundation primer is the key to making your makeup stay where you put it, and we love Laura Mercier's Radiance Primer, plus a makeup setting spray like Urban Decay De-Slick.
9. Pack for freshening up: If your clutch it packed, you'll be set for the night. Make sure to throw extra bobby pins, blotting papers, a stain remover stick, lip color, a mint, perfume roller ball stick, and anything else you may need to touch up throughout the night in your bag.
10. Don't forget to drink water: Drinking water throughout the day will keep your skin hydrated, fight bloating and keep your energy high. Fill up that glass, girls!
Image via iStock
More Prom Beauty From Beauty High:
15 Braided Prom Hairstyles You Have to See
101 Prom Hairstyles You Need to See
25 Prom Hairstyle How To's For Long Hair