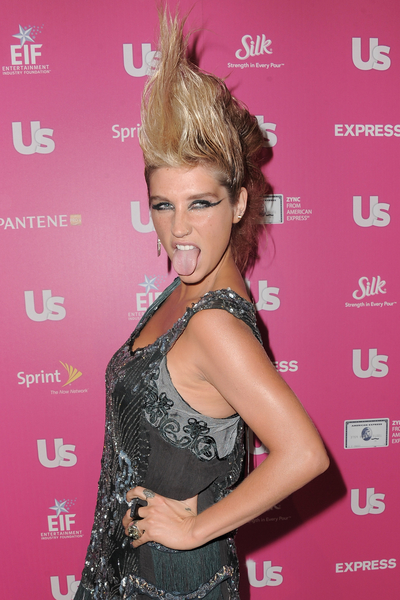 Photo: © Jordan Strauss/WireImage
The holidays are a joyful time, but also a time where we tend to overindulge–whether it's by eating too many sweets and salty snacks or drinking to the point of regret. We especially seem to notice it the next morning when we look in the mirror and see the lovely side effects of our late night filled with excess–skin appears dry, tight and sallow and our eyes are puffy from too much salt intake. Fortunately there are some quick and easy home remedies and makeup tricks to resolve these problems.
Try on Ke$ha's hairstyles in the Makeover Studio!
To reduce eye puffiness, apply a mask that contains pro-vitamin B5–this powerful ingredient will minimize inflammation and hydrate the area. For a quick home remedy, soak caffeinated tea bags in water and place them in the refrigerator the night before. In the morning, put them over your eyes for 10-15 minutes–the caffeine will immediately reduce puffiness.
To even out skin tone, mask dullness and give much-needed hydration to your dry face (remember that alcohol is dehydrating and robs your skin of its moisture), first apply a primer–it will lock in moisture and reduce redness, as well as smooth your skin.
Next, use a tinted moisturizer. My secret weapon is Hourglass' Illusion Tinted Moisturizer. I always recommend this product because it creates the "illusion" of healthy, glowing skin. It has light-reflecting properties and contains hyaluronic spheres which hydrate and keep skin looking supple. If your eyes are bloodshot, stick to neutral eye shadow shades with a yellow base–the yellow will instantly counter any redness.
To add a pop of color to brighten your face, grab a pink or peach cream blush and be sure to apply it all the way up to the apples of your cheeks to counter the dark circles. Apply a bold, colorful lip to complete the look. You are now ready to face your colleagues at your morning meeting!

Try on Ke$ha's hairstyles in the Makeover Studio!

Celebrity makeup artist Gina Brooke's philosophy is that there are no rules–with makeup, the possibilities are endless. The Hourglass Cosmetics artistic director has worked with beauty icon Madonna on three of her world tours, as well as creating looks for stars like Anne Hathaway, Naomi Campell and Gisele Bundchen. As a guest editor for Daily Makeover, Gina will show you how to play with fun new makeup trends and share her tips for using makeup to enhance your best features.