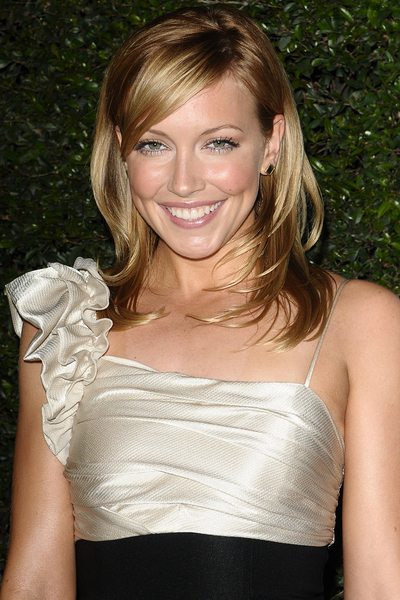 Photo: © Jason LaVeris/FilmMagic
The holidays are officially here–are you ready for them? There's always so much to do around this time of year, including getting yourself glammed up and gorgeous for all of the parties, get-togethers, soirees and various shindigs you'll be attending.
Since Hollywood stars know firsthand the challenges of looking great under pressure, who better than newly-minted "It Girl" Katie Cassidy to share her secrets on looking hot during this hectic time? We caught up with the stunning star, who plays the mysterious Juliet on Gossip Girl, to find out her tips for surviving the holidays in style.
Bold Makeup
A bold lipstick in the season's hottest shade is the perfect finishing touch to creating the ultimate holiday beauty look. My go-to holiday lip color is by Nars–it's a dusty pink, mauve lip gloss called Female Trouble. I especially love how it makes my teeth look whiter and stand out! I also love the look and feel of Giorgio Armani foundation and YSL's Touche Éclat Highlighter adds a boost of radiance to my skin.
Festive Attire
The holidays are the best time of year to get dressed up and experiment with bold colors and textures like gold, platinum, silk and sequins, yes sequins! For your seasonal gatherings, opt for a modern take on the LBD–a black sequin dress that sparkles and catches the holiday lights. To add a flash of color to your party-ready outfit, pair the sequin dress with a bright shoe.
Party-Perfect Hair
When prepping for a night out during the holiday season, I want to make sure I'm not constantly fussing with my hair. I swear by the Lea Journo Plum Oil because it gives my hair beautiful shine and smells great. To achieve my favorite party-perfect look, comb your hair into a long, sleek ponytail and add a metallic headband for a touch of glamour and an instant update on a classic look.
Beauty Essentials
All year, but especially during the holiday season, I attend many red carpet events and volunteer my time for causes I'm passionate about, so it's important my best accessory –my smile– is bright and beams with confidence. To help me achieve a whiter smile in record time, I depend on the Crest 3D White Professional Effects Whitestrips. They seal right onto my teeth so I can whiten in the shower or on-the-go. I am also a big fan of Skinceuticals skin care and La Mer's body lotion and eye cream to keep my skin looking its best.

Try on Katie Cassidy's hairstyles in the Makeover Studio!