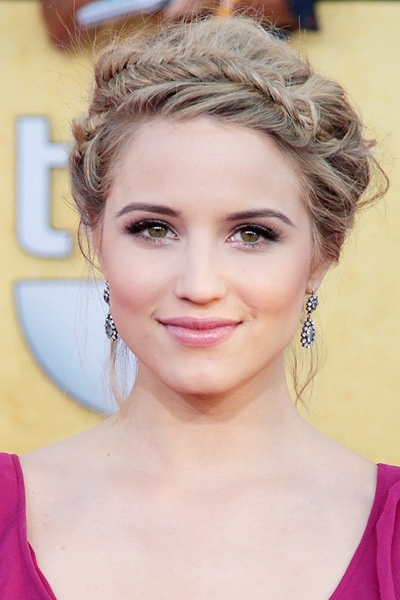 Bruce loved Diana Agron's makeup at the Golden Globes.
When you watch the Oscars, you are seeing the celebrities who walk onstage. Backstage, there is a circus-like production taking place, and Bruce Grayson is the ringleader. Bruce is the head makeup artist for the Oscars, which means the many performers and models that you see onstage go through him for their makeup. As a trusted makeup artist and Olay Ambassador, we decided to get some beauty tips from Mr. Grayson. As he touched up a willing participant, he talked us through his red carpet techniques.
Prep The Skin
We all know preparation is necessary for great execution, and makeup is no exception. Bruce misted down the model with Avéne Thermal Spring Water ($11.50, Dermstore.com) before applying Olay Regenerist Micro-Sculpting Cream ($30.99, Cvs.com). Bruce suggests you "Take the time to love your skin" and really work the moisturizer into your face and neck.
Bruce also paid attention the eye area, by using Olay Regenerist Anti-Aging Eye Roller ($23.99, Cvs.com) under and around the eyes. This wasn't something Bruce just slapped on, either. He massaged the eye area with the roller for a good couple of minutes. The serum stored in the roller reduces puffiness and diminishes the fine lines and wrinkles.
Lay The Foundation
Bruce took a short, stiff-bristled makeup brush, and dipped it into a small amount of moisturizer and foundation. He suggests women use foundation "not liberally, but strategically," which means less is more. He also mentioned the importance of blending the foundation into the hairline and neck. It's important to check that your face, neck and décolletage match.
Bruce only uses a very thin amount of foundation around the eyes, since this is where most makeup collects throughout the night. Pat in extra foundation where you see redness, but don't overdo it. You can take a Beauty Blender (or other non-latex sponge), wet it with your Avene water and blend the foundation very carefully around the eyes, so your wrinkles aren't accidentally exaggerated with makeup.
Get The Eyes Right
Bruce gave the model a modified cat eye with a grey eyeliner, instead of black. He suggests using the side of the pencil, instead of drawing it on with the actual point of the pencil. When you use the pencil's side, it glides along the eyelid, making it much easier to do a cat eye.
Should you be using a BB Cream?
Get A Hint Of Color
When using blush, Bruce used one part color and two parts moisturizer. This allows for a sheer wash of pink, instead of streaky or obvious blush. In fact, most of Bruce's advice centered on making sure makeup didn't look like makeup. His philosophy is to let the skin show, not hide it.
Before You Go
One final tip Bruce gave us was to take a concealer brush and put it into our evening bag. The brush shouldn't have anything on it. Later in the night, excuse yourself to the ladies room and lightly run the naked concealer brush around your eye area, so you can smooth out any makeup that has gathered in the lines.
Get More Suggestions
For more beauty advice, follow Bruce on Twitter and ask him about any of the looks you loved at the Oscars. You can also see our favorite looks of the night by following our live Tweets on Sunday!