Makeup "stylist" Christina Zilber discovered her love of beauty at an early age. Her mother, a fashion model of the iconic era of the sixties, taught Christina that makeup should be classic and effortless, enhancing a woman's natural beauty, never overpowering it. Christina founded her cosmetics line, Jouer around that concept, and now she's sharing her insider beauty secrets. Her easy-to-follow tips will help you create an effortlessly beautiful, timeless look with ease and simplicity.
I've been a voyeur to the tricks of getting pretty the span of my life. My mom was a model, so growing up I spent a lot of time behind the scenes watching her get camera perfect. In my mother's day, models were expected to show up to photo shoots with their makeup finished. And, my mother had her makeup application down to a science. I went on to do a little modeling and then acting myself, and it was an asset knowing what worked and what didn't.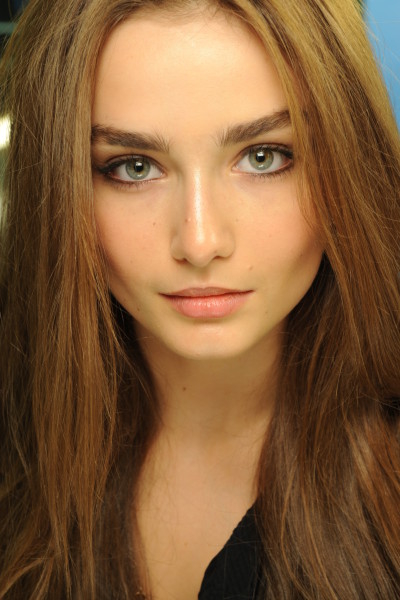 Photo: © Luca Cannionieri
The best tip I can give for backstage beauty is beautiful, even skin. No matter what the "look", whether bold and colorful, tawny and glowing, or neutral and pared down–great looking, smooth skin is always the starting point. I formulated Jouer's Luminizing Moisture Tint to even out the skin with just a little bit of glow and a light sheer coverage. I like a little freckle to show through–heavy coverage looks aging. I use my fingers to apply and never have to worry about putting on too much because it's a light coverage with BIG results.
One of the most important tricks my mother gave me is proper use and placement of a highlighter to accentuate your features. Judicially placed, highlighter can take a few years off your face by raising cheekbones, widening your eyes and shaping your lips. Dot a light highlighter in the inner corner of your eyes, high across the cheekbones and just under the outer corner of your eyebrow. I also press a little highlighter onto the bow of my lip and on the bottom center of lip for fullness and definition.
Over the years, the lip pencil has gotten a bad reputation. In the late eighties, early 90's, women would overline their lips with a dark brown color and leave the inside of their lips naked. Understandably, brown lined lips became a mark of unsophistication. However, when used properly, lip pencils can define your lips and make your lip color last longer. I have small features and find my lips disappear without using a lip liner. Choose a color as close to your lip color as possible. Follow the line of your lip, then use the pencil to fill in. Use your gloss or lipstick as usual and you'll find your lip color lasts longer.
As one of the web's largest beauty sites, DailyMakeover.com constantly receives products from beauty companies for editorial review. Please read our Editorial Ethics Pledge if you'd like to know how we select products to feature.