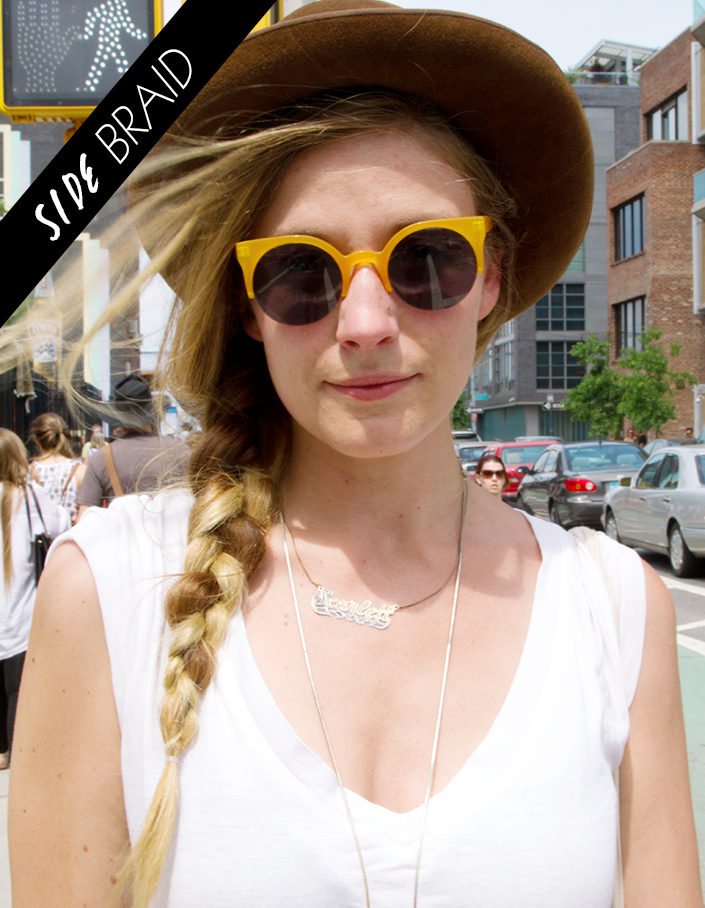 Name: Scarlett
Occupation: Designer of dog clothes at Bone Thugs NYC; Awesome sunglasses from Artists and Fleas
We can't get enough of braids right now, from small headband-style braids to big, messy side braids made popular due to Alexander Wang's spring/summer 2010 runway show. If you have hair long enough, you can rejoice – we've finally figured out a stress-free way to handle all of your hair during the summer months (or any season really) while still looking chic. The key to this look is to try it with a side part instead of a middle part – it instantly takes an average braid up a notch and adds some extra dimension to your hair (as well as a few wispy pieces around the front of your face, to help frame the look).
To get the look, simply part your hair on your most flattering side, and then pull to the nape of your neck like you're going to bring your hair into a low ponytail, but braid it instead. Secure the braid at the end with a clear elastic, and spritz with a tiny bit of hairspray for some hold. Make sure that the braid is a touch disheveled – go back into it with your fingers and rough it up a little bit for an "edgier" look so nothing is too refined. If you have pieces falling out near the nape of your neck, take one bobby pin, spray the pin with hairspray, and stick it in underneath the braid to secure those pieces (and the bobby pin spritzed with hairspray will help to hold it in place).
Bonus tip: If your hair is dirty, this look will work even better – top it off with a hat like Scarlett did above and you're good to go!
Photo by Jenny Norris
For More Beauty Street Style Inspiration:
Beauty Street Style: Beat the Heat with Double Buns
5 Easy Tricks to Getting the Perfect Beach Wave
Coachella Beauty Street Style: Flower Crowns and Braids You Can DIY