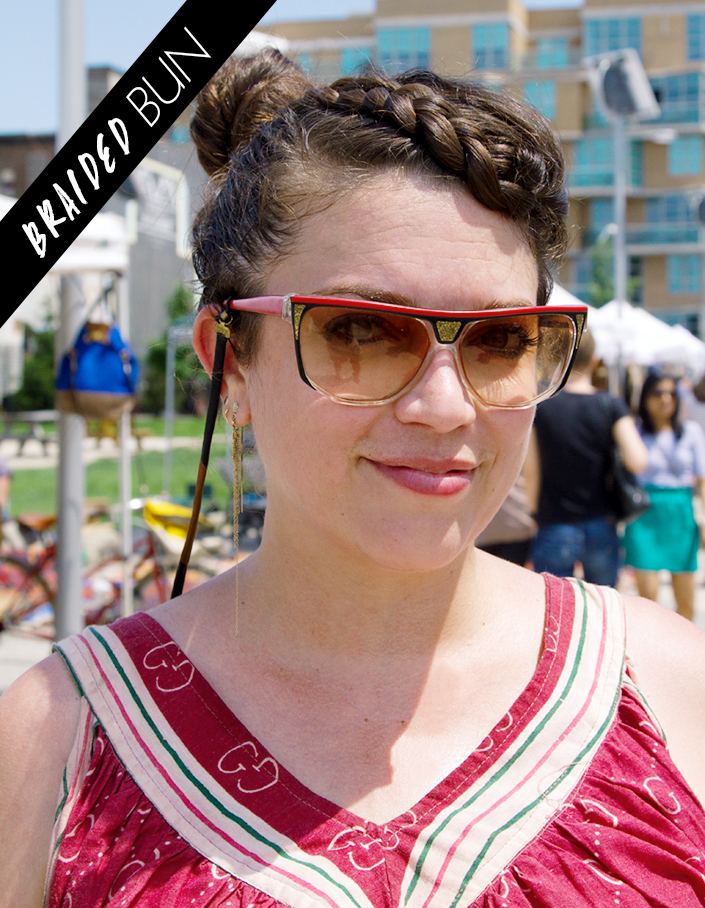 Name: Sirius
Occupation: Owner, Treehouse Vintage, Brooklyn
If you've ever had bangs (or currently have the style) during the summer months, you know that sometimes, it's not a pretty situation when the sun gets strong. We love some blunt bangs, but they fare much better during cooler months, without the threat of frizzing and curling up. So what's a girl to do when she's a bangin' beauty but needs to keep her hair off her face? Sure, there are bobby pins and headbands, but we prefer a much more expert take on the bangs situation: the braided bun. This way, not only are your bangs off of your forehead, but your hair is also off of your neck, leaving you worry free for an entire summer's day outside.
To get this look, start by parting your hair slightly to the side. On the side of your head with the greater amount of hair, start braiding pieces into a three strand braid, from the top of your head. Continue towards your ear, pulling in your bangs into each of the three strands to keep the braid even. Once you have an entire braid, wrap it towards the back of your head and pull the braid, along with the rest of your hair, up into a ponytail and secure with an elastic. Wrap loose hair around the base of the ponytail and secure with bobby pins for a top knot. Spritz with some hairspray for extra hold.
Pro tip: Use a texture cream in hair that will be the braided section before you begin braiding to keep pieces from falling out.
Photo: Jenny Norris
More Beauty Street Style Inspiration:
Beauty Street Style: Side Braids and Sunglasses
Coachella Street Style: Flower Crowns and Braids You Can DIY
Beauty Street Style: Beat the Heat With Double Buns