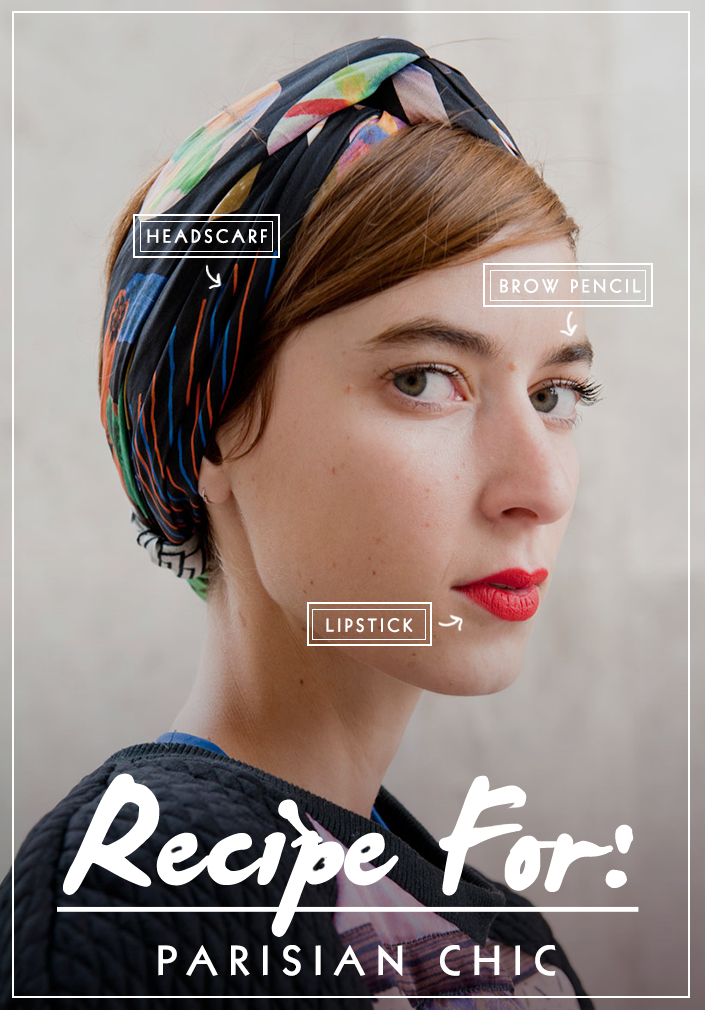 Paris is a city known for many things. The fashion, art, architecture, (and of course, skincare) are some of the impressive components that make up the city of lights, but today we want to shine the light on the stunning women of Paris and their effortless beauty. For years, the world has been trying to figure out the secret behind the gorgeous French faces and, finally, we have figured it out. When it comes to French makeup, less is more and simple is always better. Take a peek below to find out just how easy it is to achieve the Parisian chic beauty we've all been striving for!
Head Scarf: A colorful turban is a gorgeous and easy way to take your look up a notch. Start by grabbing a square scarf and folding it in half to form a triangle. Then continue folding the scarf until you have one lone, thin band. Next, put the scarf around your head with the two ends facing out and secure the two ends by tying a knot at the front of your head. Continue by grabbing the ends from the knot and tying them in the back. Make sure to tuck in any loose ends and there you go: A beautifully tied headscarf!
Eyebrow Pencil: With famous faces like Cara Delevingne and Lily Collins rocking the bold brow trend, it seems as though full, beautiful brows are here to stay. Bold brows portray a youthful and effortless kind of beauty that is synonymous with French beauty.
Red Lips: The makeup look in Paris may be about minimalism, but it is also about confidence, and nothing says confidence like a bright red lip. A red lip is bold, romantic, and elegant, making it the perfect representation of Parisian chic beauty.
Image via Imaxtree