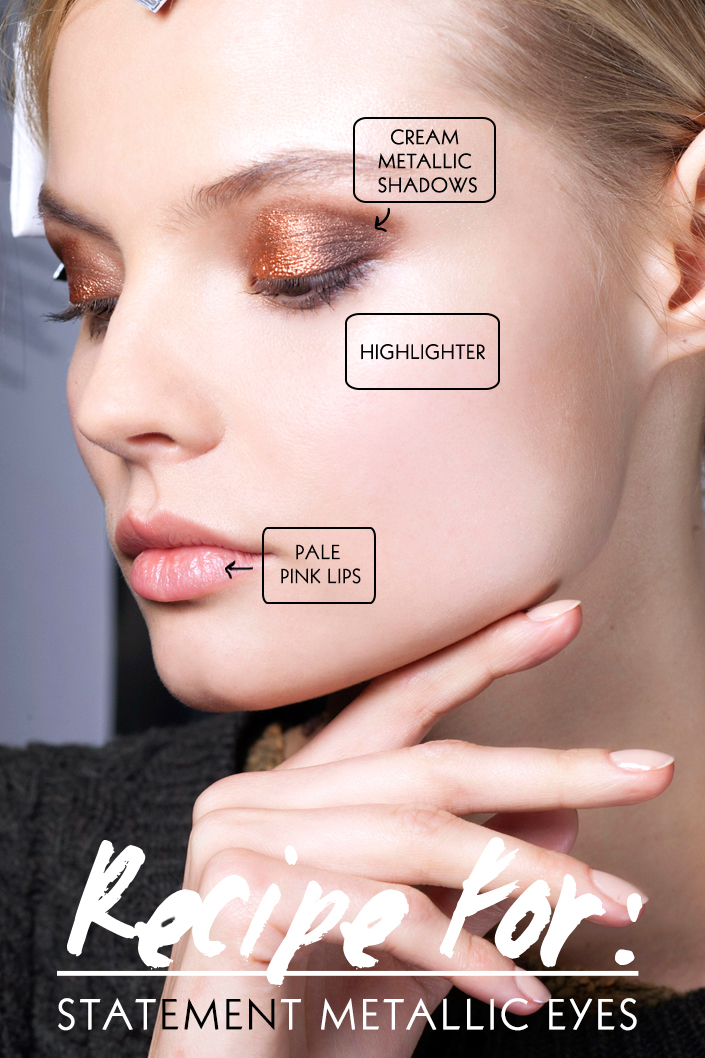 Metallic makeup may just be the most discussed trend of 2014 – we're calling it now. Not only is it an obviously gorgeous and fawned over look, but it comes with a few um, hurdles. For some reason, when it comes to applying glitter, many of us are either very hesitant about it (and often are light of hand) or we have the misfortune of being almost careless with the product, and wind up looking like we're in costume (not what we were going for).
To get the exact statement-making metallic look you are going for, we've broken down the look into a recipe of sorts, based off of the gorgeous look spotted at J. Mendel's fall show at fashion week. Below you'll see exactly what you need to ace the metallic makeup test.
MORE: Beauty Recipe: Getting the Old Hollywood Glamour Look Just Right
Pale Pink Lips: Whenever you go strong on the eyes with a dark color (or a glitter) always play down your lips. But, we suggest adding a hint of color to them still to balance the look, with a pale pink balm or lip crayon for a healthy yet natural look.
Eyeshadow Primer: When you're using strong colors or glitters for a bold smokey eye, always start with a primer to hold everything in place. For this look we're suggesting using cream shadows, so it's especially important to wipe away any oils that could be on your eyes first and prep with a primer.
Cream Metallic Eyeshadows: Cream eyeshadows tend to have richer metallic shades (and longer lasting powers) once they set. Try a duo stick like Revlon Colorstay Smoky Shadow Stick in Torch, which is actually what was used at the J. Mendel show by makeup artist Gucci Westman for this look.
Highlighter: To make your cheekbones glisten just a bit and play off of the reflection from your eyes, add a touch of your favorite highlighter right along the top of your cheekbone and blend. You can also add a bit to the inner corner of your eyes.
Image via Imaxtree