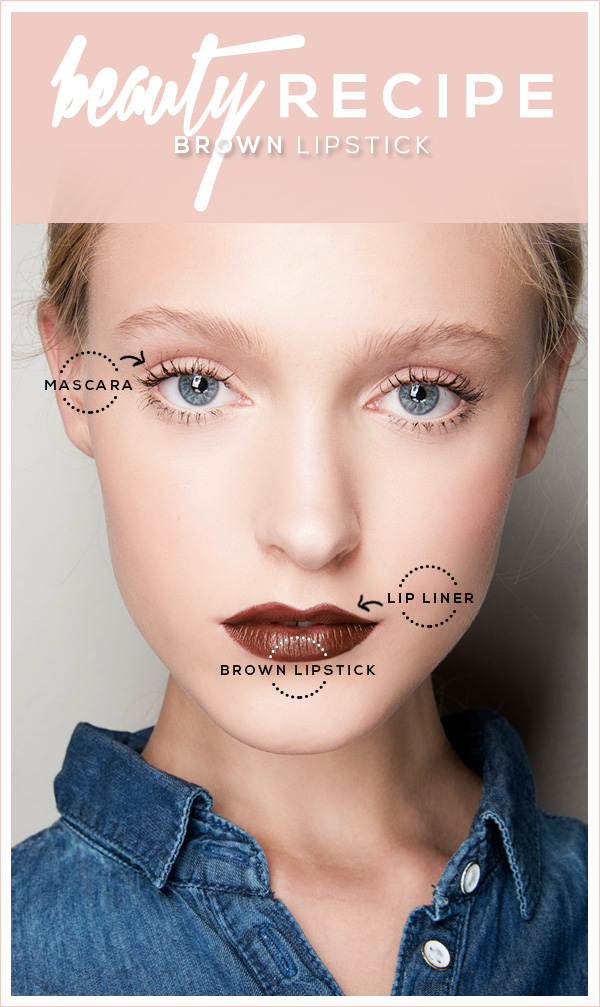 By now we're sure you've noticed that the brown lipstick trend is back, and better than ever. In the '90s we were used to a defined brown lip liner that looked anything but natural, but now we're filling our entire lip in with a sultry brown shade for the perfect winter, deep and dark, edgy look. While a brown lip may sound intimidating, it's actually one that anyone can pull off, and below, we're showing you how.
Mascara: Since brown lips are so bold, we're keeping things on our eyes simple. Skip the shadow and winged liner, but don't forget the mascara. Apply a few coats of your favorite volumizing mascara to help accentuate your natural lashes and open up your eyes.
MORE: 10 Chic Chocolate Brown Lipsticks We Need Right Now
Lip liner: Before you go digging in the bottom of your old makeup bag for your brown lip liner, remember we aren't time traveling back to the '90s just yet. Instead, opt for a nude lip liner, like NYX Cosmetics Retractable Lip Liner in Natural. By outlining your lips with the nude liner then also filling them in, you'll be toning down the natural pigmentation of your lips so the brown lipstick will show true to color, while creating a base for it to stick to so it stays put all day without feathering or bleeding.
Brown Lipstick: Now it's time for the fun part: the lipstick! Instead of applying the lipstick straight from the tube onto your lips, use a lip brush for a more precise application. For the perfect deep brown lip, we're currently loving Milani Color Statement Lipstick in Double Espresso.