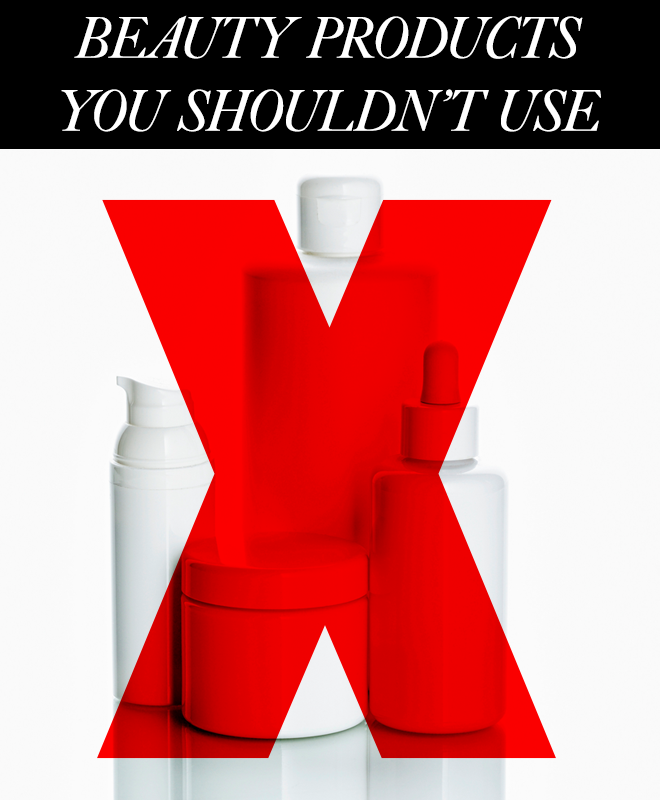 We're usually hearing about the beauty products we can't live without, but it turns out not every product in the beauty aisle has our skin's best interests in mind. We asked top dermatologists and skin care experts to weigh in on the items you shouldn't be putting on your skin.
1. Bar Soap
"Washing with bar soap, no matter how expensive it is or how moisturizing it claims to be, is an absolute no-no," says celebrity esthetician Renée Rouleau. "The binders that hold a bar of soap together naturally have a high pH balance, so they are too strong for the skin. Washing with something that's too harsh strips skin of water, leaving it dehydrated with dry skin buildup."
Safe alternative: Try a sulfate-free cleansing gel, like the Renée Rouleau Luxe Mint Cleansing Gel ($35.50, reneerouleau.com).
2. Hydroquinone
"One of the more troubling ingredients used is hydroquinone," says Gary Goldfaden, M.D., a practicing dermatologist. "Hydroquinone is used as a lightening agent and acts essentially like bleach. This ingredient is harmful and once too much has been used, the reverse desired effect can occur. For instance you will go from treating hyper pigmentation to having white bleached out skin in severe cases."
Safe alternative: Seek out natural lightening ingredients, like vitamin C, vitamin A, and licorice.
3. Alcohol-Based Toner
"Many people like the clean and tight feeling associated with using alcohol-based toners, but alcohol strips the skin of water, resulting in dead cell build-up and skin dullness," says Rouleau.
Safe alternative: Look for alcohol-free toners, or mist your skin with thermal water, like Avéne Thermal Spring Water ($12, drugstore.com).
4. Cosmetic Fragrance
"Often times, cosmetic fragrances are made from all kinds of ingredients that companies often like to keep hidden," says Marina I. Peredo, M.D. "Most commonly, they will include some form of petroleum, which can interfere with proper perspiration. Additionally, studies have found that they often have ingredients that can disrupt hormone production. Avoid products that list fragrance as an ingredient."
Safe alternative: Try Lavanila The Healthy Fragrance ($58, lavanila.com).
5. Abrasive Scrubs
According to skin care experts Rob and Carol Trow, too much scrubbing or too many abrasive products can remove protective oils, creating tiny micro tears and contributing to aging.
Safe alternative: A chemical exfoliator, like Kaplan MD Clinical Skin Therapy ($50, kaplanmd.com).
Read more: Can Consuming Dairy Cause Acne?