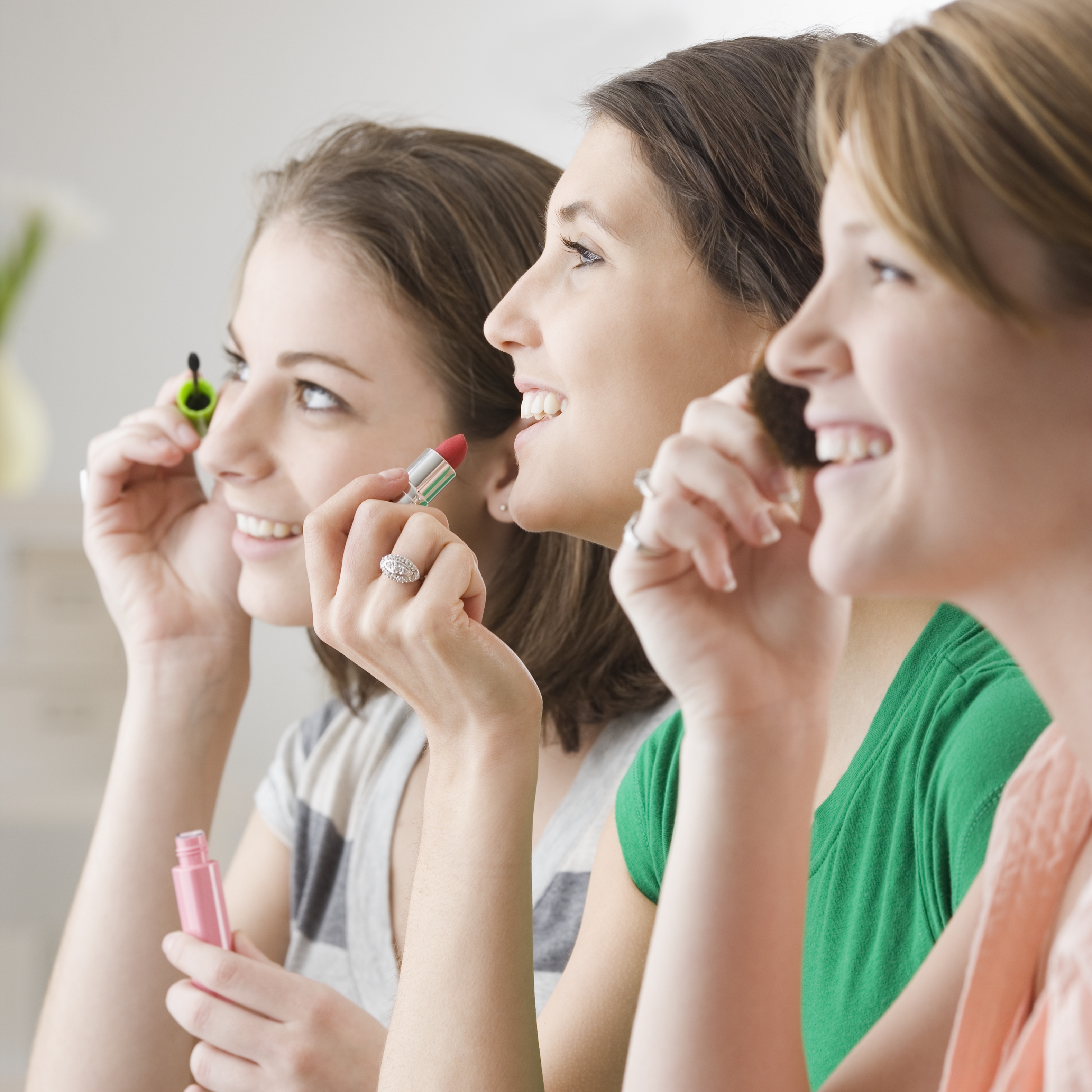 When you're in a jam with makeup, skin, hair or any other beauty problem, you need a solution — and fast. Learning genius beauty hacks has become a bit of a hobby for us, and we've collected our favorites below to help you the next time you're in need of a quick beauty fix!
1. In a pinch, consider hand sanitizer to combat a shiny face. "The ingredient they have in common that works for this trick is dimethicone, a type of silicone. It smooths like a primer and provides a protective coat locking in moisture which creates the shine," says Shelley GoodStein, an author and model. You can use this along the hair line, your forehead, T-zone or if you have glistening cleavage.
MORE: 101 Beauty Tips Every Girl Should Know
2. "My favorite fast beauty hack for the wintertime is using Chapstick to soothe a dry nose!" says Liz Mitchell of The Neon Blonde. Just like it works on chapped lips, it can help moisturize the skin right around your nose and provide instant relief. You can also rub some inside of your nose when it's feeling super dry, sore or just uncomfortable. Just be sure not to stick the tube up your nose and then use it on your lips (because that's just gross).
3. "Dab a bit of full-fat Greek yogurt on a pimple and let it dry (takes around 20 minutes) before rinsing off with warm water to reduce inflammation and redness quickly, easily and cheaply!" suggests Alexis Wolfer of The Beauty Bean. The lactic acid helps unclog the pore and breakdown the dead skin cells, the probiotics help to balance bacteria, and the fat helps to moisturize (without clogging skin!).
MORE: 5 Easy DIY Hair Masks
4. Burn yourself with your hair iron? For minor burns, skip the ice and reach for some raw honey. "A thick layer will immediately cut the sting while also providing antibacterial protection and keeping skin hydrated," Wolfer says.
5. Add 2 crushed aspirin to your favorite shampoo to turn it into a dandruff-blasting product. "The pills' salicylic acid breaks down dead skin cells and product buildup," says Wolfer.
MORE: 25 Tips for Never Having a Bad Hair Day Again
6. "To exfoliate dry feet add 2 tablespoons of brown sugar to 1/2 cup of coconut oil. Mix and then apply this to the feet in a circular motion," suggests Debra Jaliman, MD, a board-certified dermatologist and author of Skin Rules. "It helps to get of a lot of the dead skin!" Then wash off with a warm washcloth.
7. "Use cool cucumbers under or over the eyelids to decrease puffiness and inflammation. Tea bags work well also!" says dermatologist Dr. Marina Peredo.
8. "Your toothbrush is one of the best tools out there! Use a toothbrush to exfoliate the lips by making small, circular motions. A clean toothbrush can also be one of the best tools for de-clumping mascara," says Ami Shvartzman, glo minerals National Makeup Artist.
MORE: How to Fix Every Nail Problem in the Book
9. Celebrity hairstylist Peter Coppola, creator of Peter Coppola Keratin Concept, says for a longer lasting blowout, squeeze a small amount of fresh lemon juice on a cotton ball and dab at the root area to absorb any excess oils while leaving your hair with a delightful scent.
10. Try oil pulling! "Swish coconut oil in your clean mouth first thing in morning for around twenty minutes for super white teeth and to rid teeth of cavities!" says Jolie Martin, Director and Laser Skin Specialist of NYC's SKINNEY Medspa.