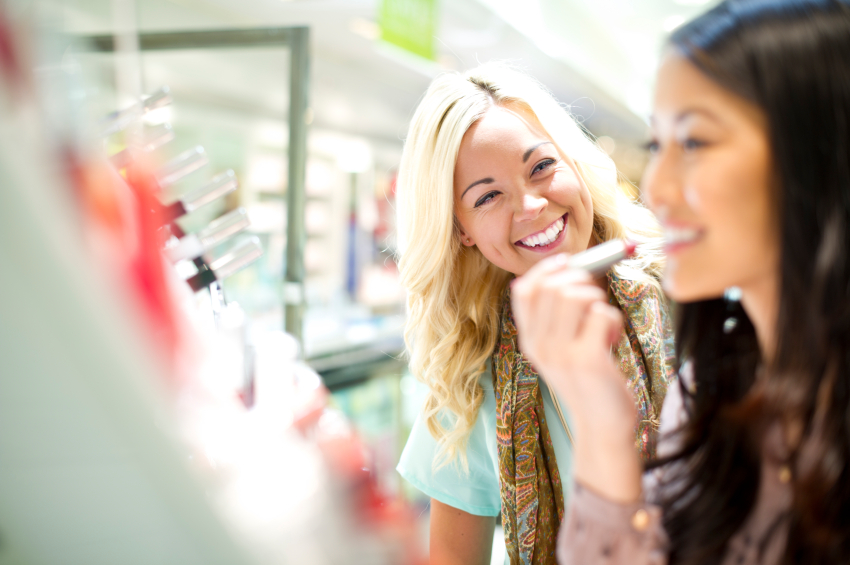 If you're anything like us, you spend a lot of time at beauty counters, because you never know which product's going to change your life. But time has taught us lessons, lessons that we'll pass onto you, girls and well-groomed guys, so that you may learn from our mistakes. Above all, we hope to help you avoid that greatest of beauty misfortunes: Regret. Here, eight things to do before you leave the beauty counter.
1. Check Yo' Self Before You Wreck Yo' Self. To paraphrase the immortal and hugely decontextualized words of Ice Cube, it's important to get a real, honest look at your makeup before buying anything or leaving the store. Most stores know this, so they make things difficult by setting up flattering lighting around the mirrors. But that's not real life. Real life is taking a hand mirror near the window and realizing that trendy orange lipstick is not for you. If that's too real for you, try the mirrors in the hair and skin areas of the store. They're usually less backlit and thus, more trustworthy.
2. Look at the Light Functions on the Mirrors. Some beauty boutiques are installing mirrors with different lighting options, like Conair's at-home version. It's not quite the truth and nothing but the truth, like above, but it's gimmicky and fun, and cool to see how different colors translate in different lights.
3. Do You Need It? No one likes to end up with five lipsticks in almost the exact same color. Find what looks good and feel free to stick with it, but try to take stock of what you already own before you take the plunge on a duplicate.
4. But There's Always That One. As is well-chronicled here, there's always the one product that makes you that much more confident, that brightens up both your eyes and your days. And there's nothing worse than realizing you walked away from something that made you look that good. It's the one that got away (if beauty products were romantic interests). There are two ways to avoid this: Be completely, 100% sure of your decisions before you leave the store, or don't leave wearing something you're iffy on. It won't end well.
5. Plan Ahead. There's nothing like a mid-afternoon Sephora run to give you a quick pick-me-up (no, really, try a facial mist), but be sure to keep in mind where the rest of the day will take you. We've got nothing against trying out daring trends, but if you've got to head back to the office or have a class to catch later on, maybe take a pass on trying the edgy blue eyeshadow for now.
6. Visit Your Old Favorites. Before you leave, revisit the oldies but goodies that you already own. Seeing how great you look can only reaffirm your confidence in past good decisions, and we've got to take that wherever we can get it.
7. Clean Up the Remains. We almost always emerge from Sephora with about fifty different swatches on the back of each hand. But while it's fun to see the battle markings that some people come out with, be sure to clean off the most transferable of swatches. Otherwise, it's an unhappy fate for your cuffs and a spot-treating freak out in your future.
8. Check Out the Checkout Display. Although it's easy to pass time in line on your phone, beauty boutiques like Sephora and Ulta stock their checkout displays with some gems. Usually featuring products from independent brands like BeautyBlender and Eyeko, the trip to the cash register is sometimes enough to warrant a trip to the store.
Image via Istock
More From Beauty High: 
10 Beauty Myths We All Fall For
5 Beauty Habits That Are Bad For Your Health
How Pinterest and Facebook May Be Making You Fat